Crab Shack on the Bayou Original Painting
Framed Size 17" x 15" in Museum Quality Gold Frame
Price: $299.00


Questions, comments, or to order email the artist or call toll free 1-800-936-9958 or 303-604-9958 Colorado Shop Online! Free Shipping in USA and to Canada - orders will ship within 5 days


You also might like these fleur de lis paintings and metal tiles of a crab and crawfish by artist Linda Paul



Frame:
Crab shack on the the Bayou is framed in a 3" museum quality hand-crafted, solid wood frame. Frame is hand-finished in gold leaf. There are no mitres showing.
shows painting in its frame: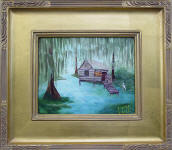 click picture to see larger image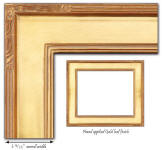 Artist's Inspiration for this Louisiana Art Painting:
I love the calm & peacefulness of the bayou. I prefer to canoe in a quiet place than to be in a boat on big water. I especially love the wildlife on the bayou. This original painting has an ibis and a well hidden alligator. The crabs are $10.00 a dozen, but you have to go to the bayou to get em at that price!
Some of the natural crushed minerals that I used in this painting are: pure blue lapis lazuli stone, green earth from Verona Italy, natural ochres from France, crushed rare slate from the Swiss Alps. These minerals were crushed and then I mix them with egg yolk to make my paint.
The painting alone is 8" x 10" Framed size is 17" x 15"
see all Linda's Original Paintings