shows the 30" x 24" - click picture to see the 40" x 30" (a little more of the side walls show)
copyright info will not appear on the artwork that you purchase
Order as Ready- to-Hang ( no frame needed) or "Ready-to-Frame"
Ready to hang! Canvas Art: Sizes: 10" x 8" x 1-1/4", 16" x 12", 20" x 16", 24" x 20", 30" x 24", 40" x 30". 48" x 36". Canvas is stretched over 1-1/4" stretcher bars, with hand-painted sides and hanging hardware attached.
No frame needed! Ready to hang! more info on stretched canvas


or buy as

Ready to frame (unframed): Canvas is mounted on 1/8"board and is ready to pop into a standard sized frame. No glass is necessary! Sizes: 10" x 8", 16" x 12", 20" x 16", 24" x 20" & 30" x 24"

If you don't see the size of print that you need, contact us, we may be able to make it for you! All prints are made in my Colorado studio by the artist!
Canvas Print Information:
Each giclee canvas print is individually created by Linda Paul using archival pigmented inks & canvas. Pigmented inks are the only inks on the market that will last. They are the highest quality possible and are created from the original egg tempera painting by Linda Paul. Each print is numbered & hand-signed by the artist! Edition size is only 500 of each size. Comes with a certificate of authenticity.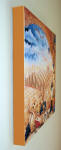 Ready to Hang The canvas is stretched over 1-1/4" stretcher bars with hand-painted sides. These artworks need no frame & arrive at your door ready to hang!
"I received the artwork yesterday and it looks great! I was looking for something unique and different to put in my kitchen and found your site. The painting fits perfectly with the look I'm going for. I found the site by searching online for "Southwest prints". Thanks Susan Byer"

I received my latest piece of artwork from you, Chili Pepper Kitchen, and it is absolutely beautiful. I just wanted to say thanks again for creating such wonderful artwork. Keep up the good work. Sincerely, Julie Kuper

more customer reviews
Questions, comments, or to order email us or call toll free 1-800-936-9958 or 303-604-9958 Colorado Shop Online Free Shipping in USA and Canada -orders will ship within 5 days - Visa, MasterCard Accepted Ship free to USA and Canada, Europe & overseas (shipping extra)
Request a Sample! email us to request a mini sample (3" x 2") for print color accuracy. Please include name of the print, your name, address and phone # . North America only
Dear Linda, My beautiful canvas arrived today and I must share with you my sincere joy. I recently moved to a townhouse without a window above the kitchen sink. I decided to seek a "faux window" and use my imagination when doing the dishes, etc. To my utter amazement, the window you painted overlooking the chili pepper field is incredible! The colors are so vibrant and the texture is amazing. I am truly looking out a window and just might find myself calling out to the woman in the field inviting her in for a cold glass of ice tea! Linda, thank you so much for sharing your talent...I will treasure this canvas forever. Smiles, Paula McAfee