shop online or call toll free 1-800-936-9958 Free Shipping in USA & Canada

Artist's Inspiration: I love coffee. Don't know how I could paint without it. These originals are sculptures as well as paintings. I sculpted the elements in bas -relief before painting them in pure egg tempera. You can see my process below.

| | |
| --- | --- |
| This Italian chef and barista will add a splash of red to you kitchen decor. The coffee cup sign of the wall says "cucina italiano" which means Italian Kitchen | |
| | |
| --- | --- |
| This sculpted painting of coffee beans and burlap bags and is perfect for coffee decor. | |
These original painting are one of a kind. They have incredible sculpted texture! The elements in the painting are lightly sculpted in low relief (about 1/8") before being painted in pure egg tempera made from crushed stone and egg yolk. The Hershey's kisses are pure silver leaf.
Using crushed stone to make my paint pigments makes the artwork incredibly luminous and alive. An original work encompasses the soul of the artist and it can be felt when you see this work of art in person.
Frames: The paintings are framed in beautiful museum 3-9/16" wide solid wood frames with a hand-applied gold leaf finish with red hand rubbed undertones. They are just beautiful!
you can also buy canvas prints of these paintings
Questions, comments, or to order email the artist call toll free 1-800-936-9958 or 303-604-9958 Colorado Shop Online! Free Shipping in USA and Canada - orders will ship within 5 days

Here is how Coffee & Kisses was created
I was having my morning coffee and doodling on a piece of scrap paper and came up with this sketch. I wanted to focus on a theme of coffee and kisses as a morning menu. You can take that as coffee and Hershey's kisses, or coffee and kisses of love which is a great way to wake up. I thought it would be fun to have the coffee cup adorned with different languages of love and kisses, such as: amore (Italian for love), bisou (French for kiss), besos (Spanish for kiss), honi (Hawaiian for kiss), Mau Loa (Hawaiian for forever)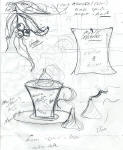 Here I have completed my sculpting for "Coffee and Kisses" and have begun to paint the under layers of egg tempera. I always mix my base colors with white so the paint has something to grab on too. This is called "tooth" . For my base colors I am using natural earth ochers from France.
The two Hershey's Kisses I have sculpted in bas-relief then gilded them with pure silver leaf