click picture to see larger image
Ready to hang! Canvas Art: Sizes: 10" x 8", 16" x 12" Canvas is stretched over 1-1/4" stretcher bars, with hand-painted sides and hanging hardware attached.
No frame needed! Ready to hang! more info on stretched canvas



If you don't see the size of print that you need, contact us, we may be able to make it for you! All prints are made in my Colorado studio by the artist!
Questions, comments, or to order email the artist or
Call toll free 1-800-936-9958 or 303-604-9958 Colorado
Shop Online Free Shipping in USA and Canada - orders will ship in 10 business days
Impressionist Art by Artist Linda Paul: It is unusual that this American artist uses egg tempera to create her impressionist art paintings. Traditional egg tempera is used for very hard line work, but this artist has combined the luminosity of pure egg tempera with the softness of impressionism.
Shop Online!




matching impressionist art prints


Repose Impressionist art print Just Hard Work Impressionist art



Canvas Print Information:
Each giclee canvas print is individually created by Linda Paul using archival pigmented inks & canvas. Pigmented inks are the only inks on the market that will last. They are the highest quality possible and are created from the original egg tempera painting by Linda Paul. Each print is numbered & hand-signed by the artist! Edition size is only 500 of each size. Comes with a certificate of authenticity.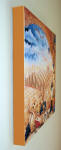 Ready to Hang The canvas is stretched over 1-1/4" stretcher bars with hand-painted sides. These artworks need no frame & arrive at your door ready to hang!
There are four prints in this impressionist art life series. This series represents the four stages of life as the artist sees it. The artist feels she is in the 'Just Hard Work' phase and is looking forward to "Repose" someday!



These impressionist art prints were created from the original egg tempera paintings by Linda Paul. They are beautifully vibrant and being on canvas they look just like the original impressionist paintings.