Ready to hang! Canvas Art: Sizes: 8" x 10", 12" x 16", 16" x 20", 20" x 24" Canvas is stretched over 1-1/4" stretcher bars, with hand-painted sides and hanging hardware attached.
No frame needed! Ready to hang! more info on stretched canvas


Canvas Print Information:
Each giclee canvas print is individually created by Linda Paul using archival pigmented inks & canvas. Pigmented inks are the only inks on the market that will last. They are the highest quality possible and are created from the original egg tempera painting by Linda Paul. Each print is numbered & hand-signed by the artist! Edition size is only 500 of each size. Comes with a certificate of authenticity.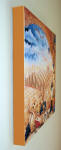 Ready to Hang The canvas is stretched over 1-1/4" stretcher bars with hand-painted sides. These artworks need no frame & arrive at your door ready to hang!
More flower pictures


The Flower Cart Down The Garden Path

I love my new prints! We were both in awe of the paintings as I took them out of the boxes. I cannot wait to hang them throughout the house! P. Puzzo
more customer comments
Questions, comments, or to order email the artist or call toll free 1-800-936-9958 or 303-604-9958 Colorado Shop Online! Free Shipping in USA and Canada - orders will ship within 3 days - Visa, MasterCard Accepted Ship to USA and Canada, Europe and overseas (shipping extra)