Market Day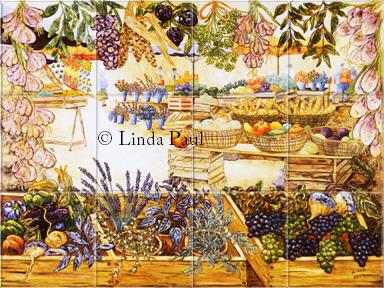 the grapes, lavender, garlic, peppers etc. in this backsplash are purple, not blue
Pricing & Online Shopping
| | |
| --- | --- |
| 4" x 4" tumbled marble tiles | 6" x 6"tumbled marble tiles |
| | |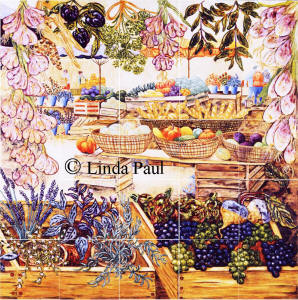 Square version of Market Day
| | |
| --- | --- |
| 4" x 4" tumbled marble tiles | 6" x 6"tumbled marble tiles |
| | |

Dimensions are given as length first, then height A note on sizes: 4x4" marble tiles actually measure
3-7/8" and 6x6" marble tiles measure 5-7/8". The listed sizes allows for grouting. If you push the tiles tight together the murals will measure slightly less than the listed sizes. For example a 30" x 24" mural actually measures 29-3/8" x 23.5" if the tiles are placed tight together. Shipping is free in Continental USA and Canada.
Custom Tile Murals: We can create a custom mural to fit your individual space. Just give us the length and height of the space you have for your mural, and we will email you a quote with pictures to show exactly what your mural will look like. We use either 4" x 4" or 6" x 6" tiles, so your measurements should fit dimensions using either of these tile sizes.
Don't know What Size to Order? If you are not sure which size of backsplash mural to order, just email us a straight on picture or design drawing of the space you have for your backsplash and we can tell you which is the best size for your space. Be sure to include all dimensions.

tumbled marble accent tiles: 4" x 4" or 6" x 6" $35 each

MD-3
herbs


MD-4
flowers


MD-5
red garlic

Featured market day backsplash


Our Market Day kitchen mural is the focal point of this gorgeous kitchen that combines French country styling with a traditional design Lots of design details including cream colored , glass front cabinets with a umber rub and creamy granite top. Artist Linda Paul's Market Day kitchen backsplash mural adds a perfect pop of color

Customer says, ""what a difference Linda's mural made to my kitchen. Really added the right touch of color." Patty Swenor , Vonore, TN
We can design the perfect mural just for you! Artist Linda Paul is an expert in designing her images to fit your space perfectly!
Tile sizes used for murals & backsplashes are:
4" x 4" or 6" x 6" (x 3/8") tumbled stone

Our murals ship in approx. 4 weeks, free shipping
see our in stock murals that ship in 3 days


Market Day - Hanging Vegetable border - 5 tiles
30" x 6" or 20" x 4" $150.00

" My tiles arrived today and I couldn't wait to get them unwrapped! And they are just gorgeous! Exactly what I was looking for! It was definitely love at first sight when I first saw them on your web page and I could not be more pleased with the reality! Not only the artwork but the texture of the tile is perfect!. Thank you Linda, for your perfect vision, talent, and also your help in selecting just the right tiles." Sincerely, Grace Jacobus Nutley, N.J
Read reviews and comments from other customers who purchased a kitchen backsplash mural.
you can expedite your order to ship in 2 weeks for an additional charge of $100.00
just click add to cart

Our tumbled stone murals come with a satin finish.

Our tile murals are easy to clean with soap & water and are designed to be used as kitchen backsplashes & behind stoves & ranges.
email our tile design experts or call 1-800-936-9958 to order or inquire
toll free from USA, Canada, the Caribbean, Alaska or Hawaii
Request a Sample! email us to request a mini paper sample (3" x 2"). Please include name of the artwork, your name, address and phone #. USA only . The paper samples are very close in color to the tiles , but not exact. If you wish an exact color match, we suggest you order an accent tile.

About our stone tile murals & kitchen backsplashes