page 2 of
Canvas Art Prints

by artist Linda Paul

Prices $

89.99

to $699.00

Free Shipping in USA and To Canada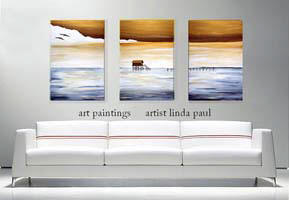 Small and LARGE canvas art for home decor.

Frameless high quality

archival limited edition canvas art prints.
shop online or call toll free 1-800-936-9958 Small and large art prints on canvas are available for each image Sizes 8" x 10" to 30" x 60"

Most orders for canvas art prints ship out from our studio within 10 days. go to page 1 of art prints for sale


Flower Cart canvas art print
Down The Garden Path
wisteria & flower garden

canvas artwork
Shaken Not Stirred!
and martini Please
page 1 of art prints for sale

Shop Online!

Ready to Hang Canvas Art
The canvas is wrapped around 1-1/2" stretcher bars with hand-painted sides.
These artworks need no frame & arrive at your door ready to hang on your wall.


about our canvas prints

Free Shipping in USA and To Canada
Frameless Canvas Art Features:


- ready to hang
- made by the artist in USA
- hanging hardware
attached
- hand-painted edges
- hand-signed by the artist
- certificate of Authenticity
- archival quality
- wooden stretcher bars
Ready to Hang - Canvas
Print Prices:
8" x 10" $ 89.99
12" x 16" $149.00
16" x 20" $225.00
18" x 24" $299.00
20" x 24" $349.00
24" x 30" $399.00
30" x 16" $399.00
36" x 16" $399.00
36" x 18" $399.00
24" x 36" $469.00

30" x 36" $549.00
40" x 20" $499.00
40" x 30" $549.00
48" x 16" $449.00
48" x 24" $599.00
48" x 36" $649.00
54' x 24" $599.00
60" x 20" $599.00
60" x 30" $699.00
72" x 24" $699.00
First of all, I wanted to express my sincere appreciation for the very fast delivery - amazingly fast shipping and very neat packing! Thanks! The print itself is GORGEOUS - I just put it on the wall and looked at it -very soothing. My daughter merely adored it - thank you very much for the fantastic work and outstanding service and communication. I definitely will be back! Kind Regards, Elena Sarytchev
"Hello Linda, Just a quick note to say that I LOVE my giclee print (A Day in Provence) I just wish I had gotten a larger one! The colors are just magnificent! I am actually considering buying one of your original bas-relief paintings now --- Jackie
Art by Category