Color me Italian - Still Life Painting by Linda Paul
framed size 29" x 29"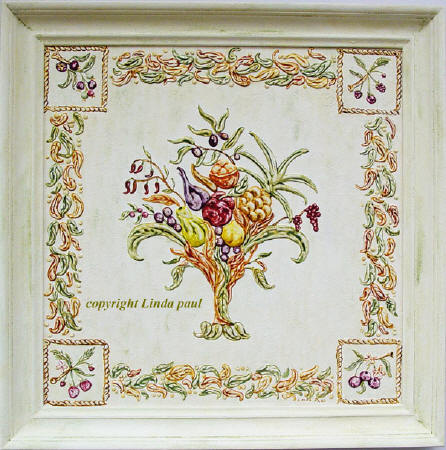 copyright info will not appear on the art that you purchase

Sold November 23, 2014
Artist Linda Paul has always been inspired by Italian Art and all things Italian! Rich Tuscan colors helped inspire this classic design. It features a fall leaf border with berries in the four corners. The center piece is a still life design of leaves, lemon, olives, pear, pineapple, orange, mini peppers, fig and apple

About this original framed art:
Painting comes framed in hand-crafted museum quality fresco frame made and hand-painted by the artist to perfectly compliment the artwork. The frame is a one of a kind as well!
This is a bas-relief sculpture as well as a painting. All of the elements were sculpted in bas-relief before being painted in pure egg tempera which I make by hand by grinding natural pigments mixed with a touch of egg yolk. read more about Egg Tempera
"Your three original paintings (Everything Tuscany, Italian Still Life and Stairway to Heaven) have just arrived. They are truly beautiful! Your ability and passion for what you do comes through in your work. I can see why you referred to the paintings as "your children" since they are your creations and demonstrate your dedication and commitment as an artist. Georgiana and I consider ourselves very fortunate to have been introduced to your work on the internet and look forward to displaying the paintings in our home. Sincerely, Tom and Georgiana Castellani Ridgefield, Ct. " more customer comments
Why Buy Original art? Some people may ask, "why buy original art when you can buy a nice print". Several reasons, simply put, the original is just far more beautiful. Its also one of a kind. This beauty does not translate as well in the digital world. Another reason is that the original captures the soul of the artist, what the artist is feeling when they are creating the piece can tangibly be felt in an original artwork. Of course the original is far more valuable and usually increases in value. You should buy original art because you love it! It will enrich your life.
Questions, comments, or to order email the artist or call toll free 1-800-936-9958 or 303-604-9958 Colorado Shop Online! Free Shipping in USA and to Canada - orders will ship within 5 business days