Kitchen Tile Murals and Backsplashes for Kitchens Pg 2
Click on any picture below to see other versions, prices, sizes, matching accent and border tiles
you are on page 2, go to pg 1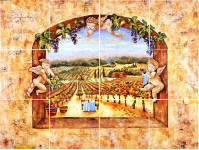 Angels in the Vines kitchen tile mural back splash of vineyard view, grapes and angels. Can also order this backsplash without the angels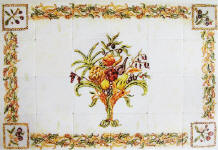 Color Me Italian tile mural backsplash. Rich Tuscan colors inspired this classic still life with fruit design and leaf border. We can create this tile mural in any size: vertical, horizontal or square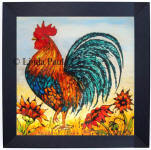 Rooster backsplash Buy as individual framed or unframed tiles or as tile mural. The framed tiles can be hung as a temporary removable backsplash or just as great framed wall art.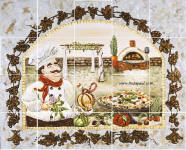 Italian Pizza Kitchen Tile mural featuring a fat Italian chef, pizza, tomatoes, basil, olives and garlic and outdoor pizza oven, pergola. We can add your name to the top curve of the pizza oven or the sky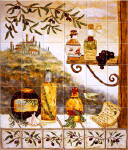 Tuscan Kitchen
mural backsplash of window and misty Tuscan landscape with still life of olives, olive oil, lemons and hummingbird. also lots of accent and olive border tiles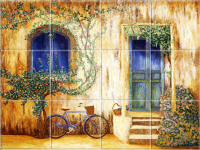 Wall of Ages
French Country House stone tile murals of Provence France with bicycle, old wall and rose arbor
Everything Tuscany
has all of the artist's favorite Tuscan things: a fat Italian chef statue, wine barrels, cheese & sausages, Chianti wine bottles, a rooster , Italian ceramics, landscape of rolling hills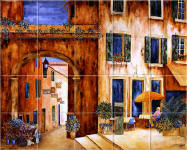 A Day in Provence
St. Remy village in Provence France. We can put your name(s) on some or all of the restaurant signs
Tropical Paradise
Florida tile mural backsplash and decorative accent tiles of a window view of the beach with ocean waves, palm tree, and sunset. Perfect for tropical and beach house decor.