Sole Journey Tile Kitchen Backsplash Mural by artist Linda Paul
Beautiful kitchen backsplash tile of a Mediterranean stairway. Tile murals of Europe by American artist Linda Paul Made in my Colorado art studio
Artist's Inspiration:
I was inspired to paint Sole Journey while in the Dordogne region of France. I was climbing the long narrow stairway that led to a castle in the town of Beynac. I wanted to explore the castle and it seemed like the tour was self-guided . Once inside the castle walls I was herded into a group behind another wall . I was trapped into the French tour with a very verbose Francophone who loved to hear himself talk. It was a very long couple of hours.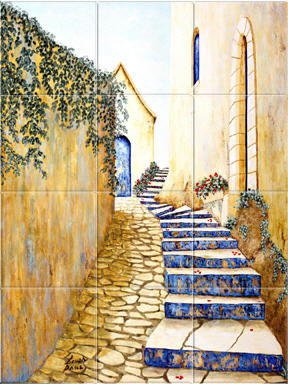 Sole Journey by American Artist Linda Paul
Price from $
499.00

Pricing & Online Shopping

6" x 6"

x 3/8" porcelain

tile mural backsplash
Sole Journey Horizontal version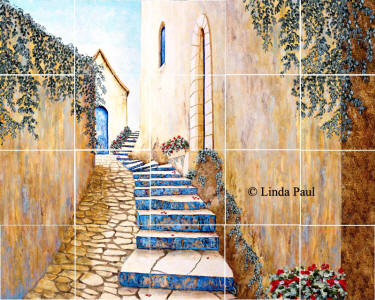 6" x 6" b

x 3/8" porcelain

tile mural backsplash

24" x 18" on 6x6" tile $499.00
30" x 24" on 6x6" tile $649.00
Accent Tiles 6" x 6"

x 3/8" porcelain

$50.00 each (can also be ordered in a 4.25" x 4.25" x 1/4" thick size)
You can add a frame to any of our 6x6" accent tiles and hang them as wall art

buy frames
Dimensions are given as length first, then height.
Don't know What Size to Order?
If you are not sure which size of backsplash mural to order, just email us a straight on picture or design drawing of the space you have for your backsplash and we can tell you which is the best size for your space. Be sure to include all dimensions. We can design the perfect backsplash mural just for you! Artist Linda Paul is an expert in designing her images to fit your space perfectly!
email our tile design experts or call 1-800-936-9958 to order or inquire
toll free from USA, Canada, the Caribbean, Alaska or Hawaii

Our murals ship in approx. 4 weeks, free shipping in USA and to Canada see our in stock murals
you can expedite your order
to ship in 2 weeks for an additional charge of $100.00
just click add to cart
you also might like these art and tile products from Linda Paul Studio