Pepper Tango Holy Trinity Mama's cooking


Stretched Canvas Prints:
Sizes 10" x 10", 20" x 20"
Canvas is stretched over 1-1/4" stretcher bars, with hand-painted sides
& hanging hardware attached.
No frame needed! Ready to hang!
What is stretched canvas?


Pepper Tango
click picture to see larger image

Artists Inspiration: Peppers are so full of life, I love the idea of them dancing.



Holy Trinity
click picture to see larger image


Artists Inspirations: I once attended the New Orleans School of Cooking. I learned that in southern cooking, peppers, onions & celery are called the holy trinity. Its found in many southern cooking recipes.

Mama's Cooking



Artists Inspirations: I had a lot of fun creating this artwork. Its an ode to mama's and cooking everywhere. In the south, watch out for those pesky (but pretty) tree frogs and you have to eat some blue crabs. I wrote the verse and it goes:

Mama be cooking on da bayou
Holy trinity & spice for da gumbo
Daddy be fishin in his piroque
Tonight a party and a little zydeco
Canvas Print Information:
Each giclee canvas print is individually created by Linda Paul using archival pigmented inks & canvas. Pigmented inks are the only inks on the market that will last. They are the highest quality possible and are created from the original egg tempera painting by Linda Paul. Each print is numbered & hand-signed by the artist! Edition size is only 500 of each size. Comes with a certificate of authenticity.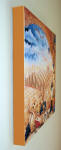 ready to hang The canvas is stretched over 1-1/4" stretcher bars with hand-painted sides. These artworks need no frame & arrive at your door ready to hang!
If you don't see the size of print that you need, contact us, we may be able to make it for you! All prints are made in my Colorado studio by the artist!
Questions, comments, or to order email the artist or call toll free 1-800-936-9958 or 303-604-9958 Colorado Shop Online! Free Shipping in USA and to Canada - orders will ship within 5 business days-

Request a Sample! email usto request a mini sample (3" x 2") for print color accuracy. Please include name of the print, your name, address and phone # USA only