Ravenna Kitchen Backsplash Plaque and Mosaic Tile Medallion
free shipping in USA
Ravenna and Romanesque Scroll Medallion from $1799.00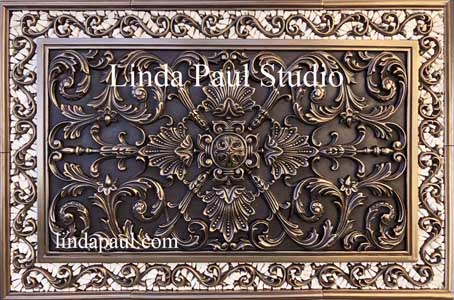 Ravenna and Romanesque Backsplash Plaque and Mosaic tile Medallion with .5" smooth bevel liner
price $1799.00
Size: 28.25 +- x 18.5

Picture shows 28" x 18.5" with S3 Light Travertine Mosaic stones and Bronze High Polish accents with the center plaque also in BN-HP with bronze antique patina background

You can order in any of our metal finishes and stone colors. Can also be ordered with a .5" fresco leaf border
Please contact use to order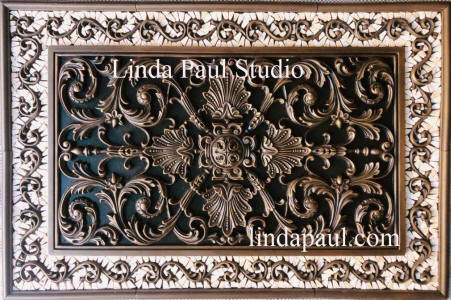 Ravenna and Romanesque Backsplash Plaque and Mosaic tile Medallion with .5" smooth bevel liner price $1799.00
Size: 29.25 +- x 19.5"

Picture shows 29.25 +- x 19.5" with S3 Light Travertine Mosaic stones and Bronze Antique Patina with the center plaque also in BN-AP with blackened background)

Can also be ordered with a .5" fresco leaf border. Your medallion will arrived ungrouted with all pieces attached to a mesh backing, just glue to the wall and grout the mosaics .

See installation picture below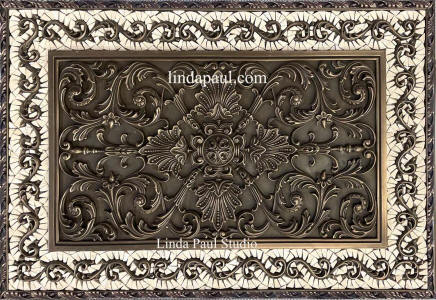 Ravenna and Romanesque Backsplash Plaque and Mosaic tile Medallion with .75" fresco border $1850.00
Size: 30" +- " x 20.5" (can be ordered with either the fresco border or the bevel liner)

shown with S3 Light Travertine Mosaic stones and Bronze Highlight polish with the center plaque also in BN-HLP with bronze antique patina background. See in copper below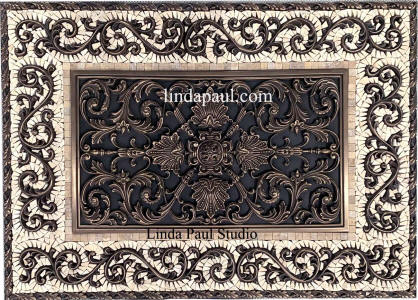 New! This is our 35" x 25" Ravenna Plaque medallion with Celeste Scroll border and fresco liner border. Show in Bronze highlight Polish with blackened background and S3 Light travertine and S5 Noche mosaic stone tiles
Price $2580.00 with free ship in USA
Beautiful Ravenna Kitchen Backsplash Plaque Medallion with fleur de lis or scroll metal accents and mosaic tile. The travertine stones are cut to fit around all the metal pieces. The medallion comes mounted on a mesh backing. You can order this beautiful backsplash in any of the stone colors or metal finishes below and you can order the center Ravenna plaque separately
The plaque and surrounding fleur de lis border if the medallion are made from a high quality metal coated resin. They are available in many different finishes (see bottom of page) including oil rubbed bronze, copper and stainless steel. These works of art art lovingly hand-crafted in the USA.

The Ravenna and all metal finish pieces installed above a cook top, must be set 5 to 6 inches above and 3 to 4 inches back from heat source (this includes vents on the back of stoves) and have a minimum 2 inch set back from the profile (face of the accent). Not doing this will void the warranty.
Installation Pictures
A New Kitchen Classic
Linda designed this custom 33.35 x 23.5" Ravenna medallion for a customer. It features a Ravenna center plaque in bronze highlight polish with blackened background, Celeste Onlay and fresco liner for outer border. Stone Colors S3 light travertine with S5 noche inner border

Customer Review:
It turned out beautifully! I absolutely love it! Thanks so very much for your good work!
Deb Hagstom, IL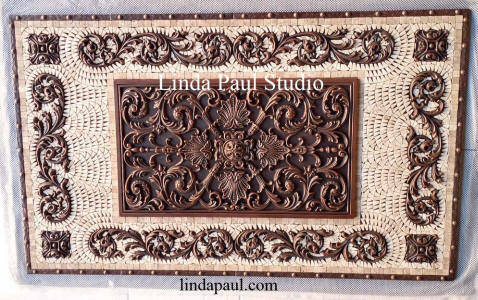 Need a large medallion?

Linda designed this large 43" x 25"+- Custom Ravenna Medallion with Bellagio scroll , 3x3 rachels flowers in the corners and .5" studded liner border. This one in copper highlight polish with S3 S5 travertine mosaics Price $3309.00. Shows medallion before installation mounted on mesh. large mosaics may have to but cut in half for shipping (plaque is packed separately)
Gorgeous kitchen that mixes retro and detailed Italian styling with a fabulous installation of our Ravenna Medallion with fleur de lis border . Center plaque is Bronze highlight polish with blackened background and S3 Light travertine and S5 Noche mosaic stone tile
Our 29.75" x 20" Ravenna and Romanesque Backsplash Plaque and Mosaic Tile Medallion with center plaque in copper high polish with blackened background and romaneque scroll and .75" fresco border is copper high plish. Stone S3 light travertine
Customer review: "We love our Medallion!!!! It looks absolutely gorgeous in our new kitchen." Erin Wilson, Coraopolis, PA
Picture shows customers gorgeous grey and white classic kitchen with our Ravenna Medallion
Customer review:

by Mark, Lena and Caden Posniewski Queensbury, NY

Customer review: "We are absolutely in LOVE with our kitchen. Having Linda's Ravenna Plaque Medallion was a perfect choice. So many complements on this piece and working with Linda was a pleasure. She was just as excited as we were and very helpful in the final design. I would and do recommend Linda Paul for your next project. Making Great memories in my Beautiful kitchen everyday!
Picture shows close up of medallion and backsplash. This Ravenna medallion is bronze highlight polish with blackened background on center and bronze highlight polish on fleur de Lis border. Stone colors colors are S2 Botticino Florito and S5 Noche

This is a very pretty install but medallions need to be 6" above and 3" back from the heat source. This one does not meet the required setbacks
This kitchen features the Ravenna Plaque Medallion in Bronze High Polish with Blackened background

I LOVE LOVE LOVE the way the kitchen turned out! Your tile piece is the focal point and has received RAVE reviews from absolutely everyone! Thank You and Best Regards,

Pamela Kyle Clarkston, MI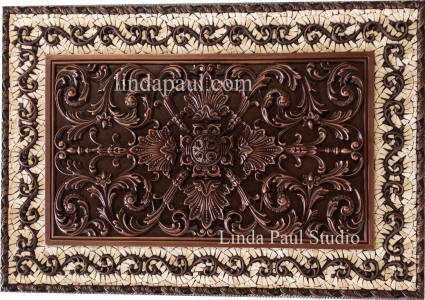 Our 30 x 20.5" Ravenna Romanesque mosaic medallion with .75" fresco border in all copper antique patina with S3 Light travertine mosaics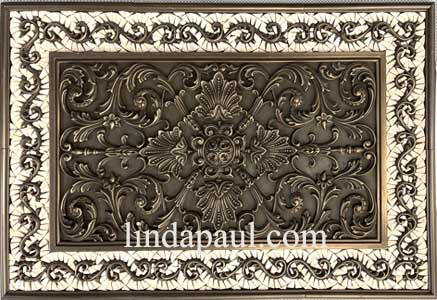 Ravenna and Romanesque Backsplash Plaque and Mosaic tile Medallion with .5" smooth bevel liner price $1850.00
Size: 30" +- " x 20.5"
with S3 Light Travertine Mosaic stones and Bronze Highlight polish with the center plaque also in BN-HLP with bronze antique patina background.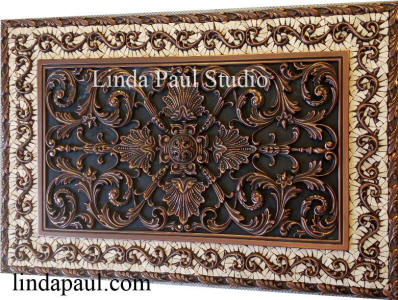 Our 30 x 20" +- Ravenna Romanesque mosaic medallion with plaque in copper high polish with blackened background and copper high polish on the Romanesque scroll and fresco border. Mosaics are S3 light travertine. See in copper highlight polish finish
Buy a sample for $5.00 each
samples ship out immediately via USPS mail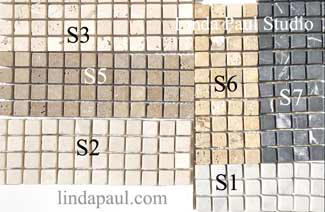 Can't decide what metal finish to order? Buy a sample for $5.00 each - online shopping below Samples are limited to one per color.
Samples are a great way to compare and match metal colors before you order metal tiles or a medallion.


Copper High Polish

Copper Highlight Polish

Copper Antique Patina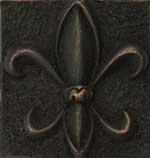 Copper Oil Rubbed

Bronze High Polish

Bronze Highlight Polish

Bronze Antique Patina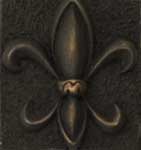 Bronze Oil Rubbed

nickel silver high polish

Nickel Silver highlight Polish

Nickel Silver Antique Patina

Nickel Silver Oil Rubbed

Brass High Polish

Brass Highlight Polish

Brass Antique patina

Stainless Steel High Polish


Iron Rust (dark brown)

Iron Wrought (black)