Regal Fleur de Lis plaque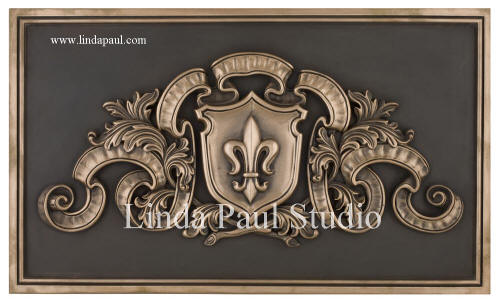 click picture to see larger image
Regal Fleur de Lis Plaque price $1099.00
Size 23.25" long x 13.5" high x 1-1/16" thick
shown in bronze high polish with blackened background
Regal Fleur de Lis medallion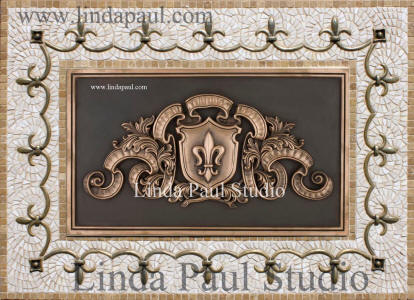 click picture to see larger image
Regal Fleur de Lis Plaque medallion $2199.00
Size 35" long x 25 high
shown in bronze high polish with blackened background with S3 Light travertine and S5 Noche travertine mosaic tile
All parts of the medallion are mounted on a mesh - just glue to the wall and grout

Free Shipping in USA See shipping info for shipments to Canada
plaque is handcrafted in the USA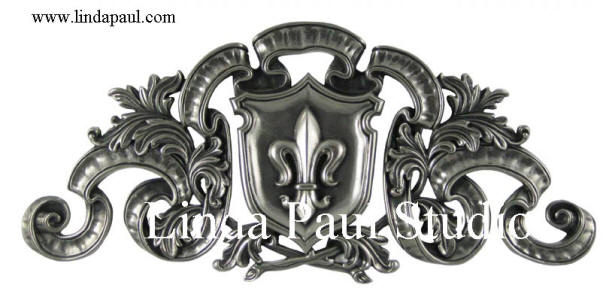 Regal Fleur de Lis decorative tile onlay
Size 20.75" long x 9" high x 5/8" thick . Price $599.95
shown here in nickel silver high polish.
Note: California shipments will be charged 3.7% sales tax. This will not show up in the online ordering system. You will get a second email confirmation with the tax added
Install on or over tile, stucco or any wall indoors or outdoors to make an instant statement piece. For the Plaque you can choose any of the bronze, copper or nickel silver colors for the relief and outer border, background is always in blackened finish. For the onlay you can choose from any of the finishes we carry
| | |
| --- | --- |
| This kitchen backsplash picture shows the fleur de lis plaque in a bronze high polish with a special blackened finish for the background. the contemporary tile accents are also available (Contempo 2" x 2" tile in bronze high polish in black tile frame). Notice the black border tile that frames the subway backsplash tile - its a nice touch | in copper high polish and black |


click picture to see larger image
Check out this idea and installation for mounting the Regal Fleur and Queen's Crown Plaque in this gorgeous custom carved cabinet


Regal Fleur Plaque (13.5" x 23.25") $1099.00
Queen's Crown Plaque (13.5" x 7.75") $349.95
Shown in brass, high polish blackened.
About mosaic tile medallions:
These beautiful plaques and onlays can be used indoor or outdoors. They are amazing quality and durability
High relief plaques and metal coated accent tiles installed above a cook top, outdoor kitchen or fireplace must be set 5 to 6 inches above and 3 to 4 inches back from heat source (including oven vents) and have a minimum 2 inch set back from the profile (face of the tile). Not doing this may void the warranty.
Installed tile must use a high-grade thin-set mortar such as Custom EBMLite™ Epoxy Bonding Mortar. If not using mortar, construction adhesive such as SikaBond® may be used.
Lead time: Plaques will ship in approx 4 weeks. Orders can be expedited to 2 weeks for an additional 15%

About the accent pieces :
The plaques and onlays are made from a metal coated urethane substrate. They look like solid metal but are not. They are made this way instead of as solid metal so that they are light enough to mount within or on top of the tile.

Cleaning and Care Never use harsh cleaners , soap and water is best. Certain foods and acids may cause changes to the finish. The metal coating has the same aging qualities as real metal and needs to be cared for as such

You can order these plaques and onlays in any of the metal finishes below. You can have the background in a blackened finish or have the same finish throughout the plaque.


Can't decide what metal finish to order? Buy a sample for $5.00 each - online shopping below
Samples are limited to one per color. Samples are a great way to compare and match metal colors before you order metal tiles or a medallion. Click here to see collection of fleur de lis tiles and onlays
| | | | |
| --- | --- | --- | --- |
| Copper High Polish | Copper Highlight Polish | Copper Antique Patina | Copper Oil Rubbed |

| | | | |
| --- | --- | --- | --- |
| Bronze High Polish | Bronze Highlight Polish | Bronze Antique Patina | Bronze Oil Rubbed |

| | | | |
| --- | --- | --- | --- |
| nickel silver high polish | Nickel Silver highlight Polish | Nickel Silver Antique Patina | Nickel Silver Oil Rubbed |

| | | | |
| --- | --- | --- | --- |
| Brass High Polish | Brass Highlight Polish | Brass Antique patina | |

| | | |
| --- | --- | --- |
| Stainless Steel High Polish | | |




Buy a sample for $5.00 each samples ship out immediately -with free shipping



Renaissance onlay 6" x 3"


Fleur de Elegance Borderless Onlay
(shown in copper, antique patina)
8.25" x 6.5"

Fleur de Lis accent tiles

email our tile design experts or call 1-800-936-9958 to order or inquire
toll free from USA, Canada, the Caribbean, Alaska or Hawaii