Beautiful Regal Fleur de Lis metal kitchen backsplash mural, plaque and onlay. Perfect for a kitchen backsplash, fireplace or cabinet applique.

You can order this beautiful backsplash in any of the stone colors or metal finishes below and you can order the plaque separately.
Regal Fleur de Lis plaque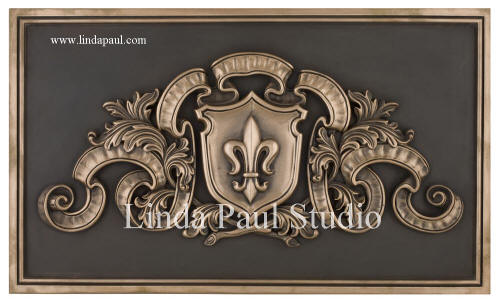 click picture to see larger image
Regal Fleur de Lis Plaque
price
$1099.00

Size 23.25" long x 13.5" high x 1-1/16" thick
shown in custom bronze high polish finish with blackened background
Please contact us to order items on this page
Regal Fleur de Lis medallion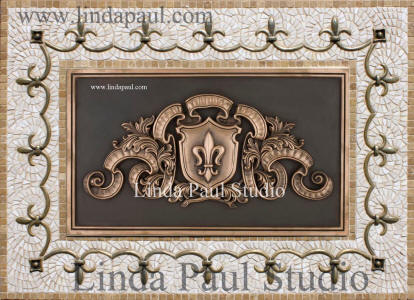 click picture to see larger image
Regal Fleur de Lis Plaque medallion
$2199.00
Size 35" long x 25 high
shown in bronze high polish with blackened background with S3 Light travertine and S5 Noche travertine mosaic tile.
All parts of the medallion are mounted on a mesh - just glue to the wall and grout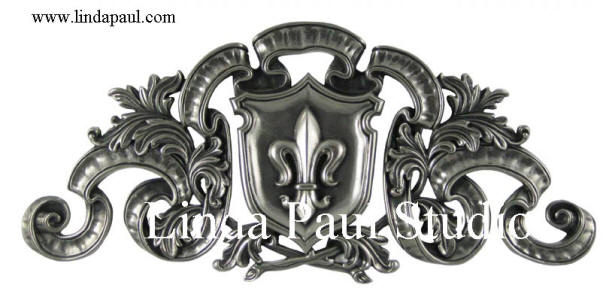 Regal Fleur de Lis decorative tile onlay
Size 20.75" long x 9" high x 5/8" thick . Price $599.95
shown here in nickel silver high polish.
The accents on the medallion are high quality metal coated resin. They are available in many different finishes (see bottom of page) including oil rubbed bronze, copper and stainless steel.



Note: California shipments will be charged 3.7% sales tax. This will not show up in the online ordering system. You will get a second email confirmation with the tax added
Install on or over tile, stucco or any wall indoors or outdoors to make an instant statement piece. For the Plaque you can choose any of the bronze, copper or nickel silver colors for the relief and outer border, background is always in blackened finish. For the onlay you can choose from any of the finishes we carry
Metal finish pieces installed above a cook top, must be set 5 to 6 inches above and 3 to 4 inches back from heat source and have a minimum 2 inch set back from the profile (face of the tile). Not doing this will void the warranty.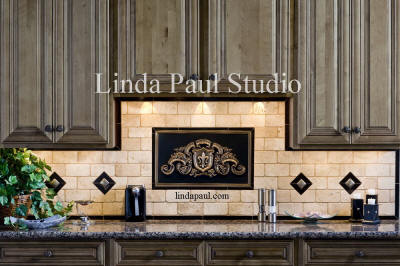 This kitchen backsplash picture shows the fleur de lis plaque in a bronze high polish with a special blackened finish for the background. the contemporary tile accents are also available (Contempo 2" x 2" tile in bronze high polish in black tile frame). Notice the black border tile that frames the subway backsplash tile - its a nice touch
Check out this idea and installation for mounting the Regal F
leur and Queen's Crown Plaque in this gorgeous custom carved cabinet


Regal Fleur Plaque (13.5" x 23.25") $1099.00
Queen's Crown Plaque (13.5" x 7.75") $349.95
Shown in brass, high polish blackened.
Buy a sample for $5.00 each

samples ship out immediately via usps mail
Can't decide what metal finish to order? Buy a sample for $5.00 each - online shopping below Samples are limited to one per color.
Samples are a great way to compare and match metal colors before you order metal tiles or a medallion.


Copper High Polish

Copper Highlight Polish

Copper Antique Patina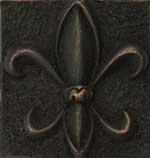 Copper Oil Rubbed

Bronze High Polish

Bronze Highlight Polish

Bronze Antique Patina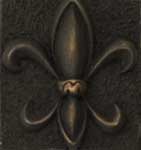 Bronze Oil Rubbed

nickel silver high polish

Nickel Silver highlight Polish

Nickel Silver Antique Patina

Nickel Silver Oil Rubbed

Brass High Polish

Brass Highlight Polish

Brass Antique patina

Stainless Steel High Polish


Iron Rust (dark brown)

Iron Wrought (black)