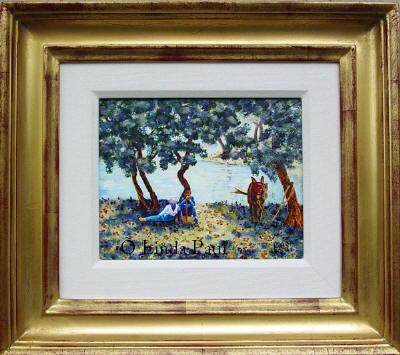 Buy the matching impressionist painting below!

| | |
| --- | --- |
| Just Hard Work | |
Questions, comments, or to order email the artist or call toll free 1-800-936-9958 or 303-604-9958 Colorado Shop Online! Free Shipping in USA and to canada - orders will ship within 5 days - Ship to USA Canada, Europe & overseas (shipping extra)

Frame: This impressionist painting is framed in a 3" natural linen liner surrounded by another 3" museum quality hand-crafted solid wood frame hand-finished with a Spanish red bole undertone and distressed gold over leaf.
There are four paintings in this impressionist art life series. This series represents the four stages of life as the artist sees it. The artist feels she is in the 'Just Hard Work' phase and is looking forward to "Repose" someday!


Just Hard Work Original is available!

Repose Painting alone - click to see larger

About egg tempera original Paintings:
In her impressionist landscape paintings, artist Linda Paul uses natural crushed stone and earth mixed with a bit of water and egg yolk to make her paint. Blues come from crushed lapis lazuli, greens from malachite and natural green earth found around Verona Italy. She uses fascinating colors which have been "lost" for hundreds of years and new colors which she has discovered in the Rocky Mountains. Her earth ochers come from the ancient open pit mines of France. Read more and see pictures! These paintings have a luminous quality that can only be created with egg tempera. These paintings will last for centuries.