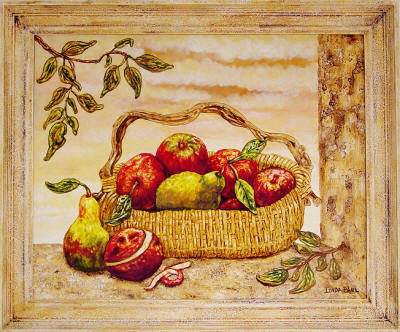 click picture to see larger image

Questions, comments, or to order email the artist or call toll free 1-800-936-9958 or 303-604-9958 Colorado Shop Online! Free Shipping in USA and to Canada - orders will ship within 5 days



"Linda, both my wife and I love our painting. The tempera technique you use is like a combination of Water Colors, Pastels and Oil and is truly unique. Vibrant, soft, textured, subdued. I can't say enough about it. Thank you very much. -Jon and Stephanie H. Denver, CO."
Artist's Inspirations:
I love to sculpt and paint fruits and vegetables. It was the first thing I ever started painting and remains a favorite today! In this still life painting I sculpted the apples, pears, basket, leaves and window ledge in a low plaster relief (of about 1/8") before painting it in pure crushed minerals and egg yolk. This beautiful original work art will last for centuries.
Frame:
Country Apple Basket is framed in a 3" museum quality hand-crafted, solid wood frame. Frame is hand-finished in a lightly textured plaster & egg tempera by the artist. It is the same color as the window ledge in the painting

see all Linda's Original Paintings
"Linda, I loved the painting which I received yesterday. It will be placed in a special place in our living room. The piece is unique and beautiful. Every time I look at it I see something new. I look forward to seeing other pieces of your work in the future. Clara Agostini "
read More Customer Comments