The Road Less Traveled Impressionism art prints on canvas by Linda Paul

This beautiful artwork is pure impressionism. It features a little man with his bicycle trying to decide whether to take the easy road, where a warm little town and a nice dinner awaits, or the hard, steep road where all is unknown. There are four prints in this impressionist art life series.


click picture to see larger image
Order as Ready- to-Hang ( no frame needed) or "Ready-to-Frame"
Ready to hang! Canvas Art: Sizes: 10" x 8", 16" x 12. Canvas is stretched over 1-1/4" stretcher bars, with hand-painted sides and hanging hardware attached.
No frame needed! Ready to hang! more info on stretched canvas


or buy as

Ready to frame (unframed): Canvas is mounted on 1/8"board and is ready to pop into a standard sized frame. No glass is necessary! Sizes: 7" x 5", 10" x 8".



If you don't see the size of print that you need, contact us, we may be able to make it for you! All prints are made in my Colorado studio by the artist!
Questions, comments, or to order email the artist or call toll free 1-800-936-9958 or 303-604-9958 Colorado Shop Online! Free Shipping in USA and Canada - orders will ship within 3 to 5 business days hours - Visa, MasterCard, Amex , Paypal Accepted Ship to USA Canada, Europe & overseas (shipping extra)

Impressionist Art by Artist Linda Paul: It is unusual that this American artist uses egg tempera to create her impressionist art paintings. Traditional egg tempera is used for very hard line work, but this artist has combined the luminosity of pure egg tempera with the softness of impressionism.
The original paintings of Repose & Just Hard Work are still available for sale!
I just wanted to let you know that we got our painting "The road less traveled"....is it just so beautiful. Thank you so much for doing that...we loved doing business with you, and respect your talent very much. Jeanne Mehsling
Canvas Print Information:
Each giclee canvas print is individually created by Linda Paul using archival pigmented inks & canvas. Pigmented inks are the only inks on the market that will last. They are the highest quality possible and are created from the original egg tempera painting by Linda Paul. Each print is numbered & hand-signed by the artist! Edition size is only 500 of each size. Comes with a certificate of authenticity.
You can order my canvases as ready-to-frame or as ready to hang stretched canvas , where no frame is needed

Ready-to-frame prints are mounted on a 1/8" board and have a UV and water- resistant coating. They are ready to pop into a standard frame. No glass is necessary.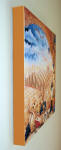 or

Ready to Hang The canvas is stretched over 1-1/4" stretcher bars with hand-painted sides. These artworks need no frame & arrive at your door ready to hang!
There are four prints in this impressionist art life series. This series represents the four stages of life as the artist sees it. Linda Paul feels she is in the 'Just Hard Work' phase and is looking forward to "Repose" someday!
The artist wrote a poem for this painting:
Man comes to a place in the road
There are two paths
The downhill path is easier
Warm & inviting
A place for some
The other, an uphill climb
Steep, Narrow
With no reward in sight
But for some faint glimmer of hope
Choose
The Road Less Traveled
more customer comments:
Your artwork Road Less Traveled arrived yesterday. All I can say is how gorgeous it is!! The picture has such meaning and depth that it begins to play on your emotions!
It is so vibrant and comes alive. Such simplicity but so much meaning! God Bless you and many thanks. Sincerely, Indira