Set of 3 - Western art prints on canvas - Limited edition prints
Sizes 10" x 10"or 20" x 20" or 24" x 24". Canvas is stretched over 1-1/4" stretcher bars, with hand-painted sides No frame needed! Ready to hang! What is stretched canvas?
| | |
| --- | --- |
| | Ready to Hang! Free shipping |
| | Ready to Hang! Free shipping |
| | Ready to Hang! Free shipping |
Questions, comments, or to order email Linda Paul or call toll free 1-800-936-9958 or 303-604-9958 Colorado Shop Online! Free Shipping in USA and to Canada - orders will ship within 5 days
These western art prints are perfect for western decor and country houses!

Request a Sample! email usto request a mini sample (3" x 2") for print color accuracy. Please include name of the print, your name, address and phone # USA only
About this Western art series by Linda Paul:
You can take the girl out of the prairie, but you can't take the prairie out of the girl. Artist Linda Paul was born and raised in the prairies of Saskatchewan, Canada. Many a childhood summer was spent biking, then driving on back roads and exploring abandoned farmhouses. The freedom of the prairie landscape gets into your soul. She moved to Colorado, became an American, and for the last few years has been painting scenes of Tuscany & France. Well chickens come home to roost and she has begun her western art series. You can see the transition in her Blue Sky paintings where she actually starts out in Italy and ends up back in the west.
Canvas Print Information:
Each giclee canvas print is individually created by artist Linda Paul using pigmented archival inks & canvas. Pigmented inks are the only inks on the market that will last. They are the highest quality possible and are created from the original egg tempera painting by Linda Paul. Each print is numbered & hand-signed by the artist! Edition size is only 500 of each size. Comes with a certificate of authenticity.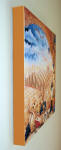 Stretched Canvas Prints - The canvas is stretched over 1-1/4" stretcher bars with hand-painted sides. These artworks need no frame & arrive at your door ready to hang!



Customer picture of Prairie Sky Painting over fireplace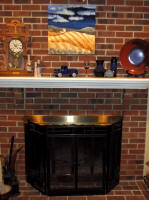 We received the painting today. We loved it! Here it is, hung above our fireplace. It is, of course, beautiful. Many thanks. Joel Williamsen Clifton, VA
more Customer Comments