Set of 3 Contemporary Art Paintings - Pears, Peppers and Apples by artist Linda Paul
Contemporary painter and artist Linda Paul presents 3 still life and landscape paintings of peppers, apples and pears. They art perfect with red decor, Free shipping in USA and to Canada
$399.00 for all 3 paintings

Painting size 18" x 18" x 2" each. These paintings are ready to hang on your wall
About this set of contemporary paintings: These original paintings will arrive at your door ready to hang on your wall. They are painted on wood panels. The sides are painted in red as well.
About these Original Paintings: These artworks were painted in pure egg tempera made from natural crushed stone & earth mixed with a bit of water and egg yolk.. read more about egg tempera paintings:

Artists Inspirations: Fruits and vegetables are always inspiring to me. I wanted to create a set of contemporary abstract landscapes that were simple, vibrant and flowed together in a modern triptych. The paintings combine an abstract still life on a contemporary landscape of green , red, and orange
This triptych set of three original wall art paintings are perfect for contemporary red decor. Look how fabulous they are with this red sofa.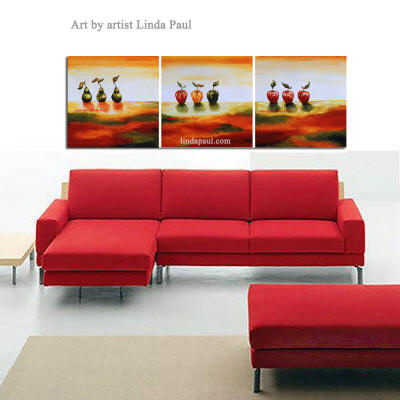 You also might like these works of art by artist Linda Paul