Red Poppy original egg tempera painting by artist Linda Paul
Poppy - mixed media painting by contemporary painter and artist Linda Paul . Vibrant painting representing the 3 stages of life and growth.
Free shipping in USA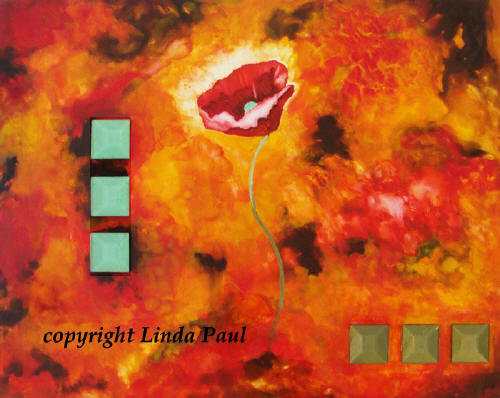 Artist's inspiration:
The concept of the artwork is the stages of life. The spring green glass squares symbolize birth and youth and the quieter gold-green ones represent repose, with of course the center poppy being the epitome of life's energy in the middle years.

This artwork is painted in pure egg tempera. I used a cradled art board that is 20" x 16" x 3/4". The vibrant colors come from using pure pigment. The egg yolk is a simple and stable binder. ( read more about egg tempera). The square pieces are beveled glass. I painted the back of the glass in iridescent greens. The painting is fully sealed with an archival varnish.
side view of painting, click picture to see larger image
While drinking my morning coffee and sitting at my desk, I came up with an idea for a three panel piece. My original thought was to have a series of poppies in different stages of life and bloom (bud, flower and seed pod) representing the three stages of life: birth, growth and repose .( I love process)
It seems a little too literal to use actual flowers for all three stages, so I think I will just use a poppy for the center panel and use symbolic representations of birth and repose for the other two panels.
I decided to do a smaller 20" x 16" painting that encompasses all three panels together before I take on a large artwork of individual panels. I need to see where I am going.
In the picture to the left, I have sketched out the placement of the center poppy and the squares that will represent spring/fall , youth/maturity
I have laid down a wash of yellow/orange egg tempera to start. I intend for this painting to have very intense colors and lots of movement in the brush strokes
At this stage I am starting to develop the color tone and intensity of the oranges and reds. I will paint the center poppy in red and add some rich brown color to the background

Poppies are very symbolic. They are know to symbolize beauty, fertility, eternal life and rest as well as being an emblem of remembrance for those who fought and died in World War I.
I have several varieties in poppies in my garden. Some of the new ones are a very deep red, I also like the wild red Tuscany poppies and the orange California ones which reseed themselves in my flowerbed every year
You also might like these works of art by artist Linda Paul