Metaphor
original egg tempera painting by artist Linda Paul

you can buy the little study painting of metaphor for just $149.00

Size 8" x 10" x 3/4" - egg tempera on panel
ready to hang with hand-painted sides and hanging hardware attached to the back
free shipping in USA and to Canada

click picture to see larger image
copyright info will not appear on the art that you purchase
The large original paintings are Sold - buy the canvas ready to hang prints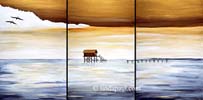 Metaphor
large ocean landscape canvas artworks
each is 24" x 36" x 2" or 36" x 48"

click picture to see larger image
This picture shows my metaphor paintings with a large wall art graphic of birds that I painted directly onto the large wall behind the paintings. There are two frigate birds in the painting on the far left. The wall mural graphic emulates the birds and pulls that whole look together as well as filling up and otherwise plain wall.

You can also purchase these artworks as ready to hang canvas prints


New How to Paint large Bird wall art Graphic Project by Linda Paul

Watch my new video on how I painted a huge wall art graphic of birds on my large living room wall


Artist's Inspiration: The paintings were inspired on trip to Belize. Over time, The little dock house had separated itself from the dock. For some reason it spoke to me. The painting has deep metaphorical meaning to me but I think each individual will find his or her own metaphor and personal meaning from the piece.

The paintings are painted in pure egg tempera made from crushed stones, minerals and metals. The gold, silver and bronze metallics in this painting shimmer and catch the light beautifully and change with the light of the day. A protective sealant has been added to the surface.
Each painting is 24" x 36" x 2". it takes a minimum of 6.5' of wall space if they are placed close together. You can space them as far apart as you wish to cover a larger wall area.
| | |
| --- | --- |
| | Decorating and wall paint ideas: These are beautiful colors to decorate a room with. Walls can be a grey or silver color, decorative accents can be in the dark navy blue or bronze tones. This is a sophisticated and soothing color palette. Also looks fabulous with a brown leather sofa |
Questions, comments, or to order email the artist or call toll free 1-800-936-9958 or 303-604-9958 Colorado Shop Online! Free Shipping in USA and to Canada - orders will ship within 5 business days