Aspen Trees Art on Canvas by artist Linda Paul
The Aspen Series - Contemporary canvas wall art prints of Trees and Aspen Leaves. Buy individually or as a set of 3 or 4 artworks - hand signed by artist Linda Paul
Questions call 303-818-2663 or email us
Artist's Inspiration:
Contemporary artist and painter Linda Paul lives in Colorado and every autumn is inspired by the beauty of the aspen trees in their fall colors. The leaves have a life and dance of their own. The artist wanted a very modern feel to these paintings.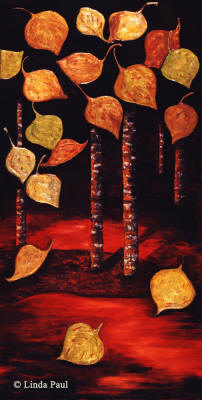 Aspen Trees in the Moonlight
Ready to Hang Art on Canvas
12" x 24" - $149.00
18" x 36" - $299.00
24" x 48" - $399.00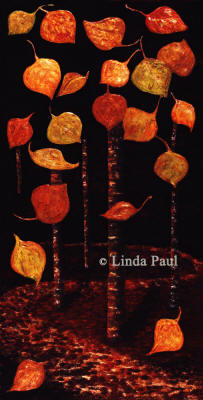 Aspen Leaves & Moonlit Path
Ready to Hang Art on Canvas
12" x 24" - $149.00
18" x 36" - $299.00
24" x 48" - $399.00
Ready to Hang Canvas Art
The canvas is wrapped around 1-1/2" stretcher bars with hand-painted sides.
These artworks need no frame & arrive at your door ready to hang on your wall.


more about our canvas prints

Free Shipping in USA and To Canada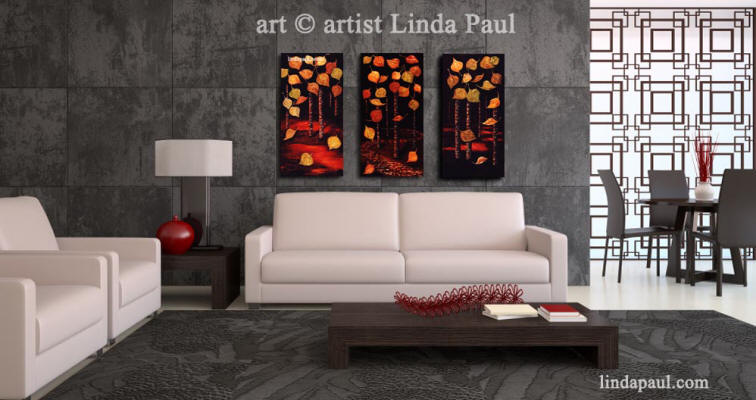 Decorating Idea:
The Aspen series looks amazing in this modern black white and red living room with dark grey wall panels. You can also paint your wall a bold red for extra impact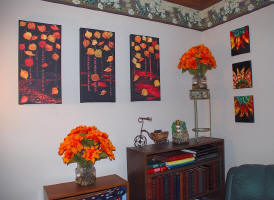 Here is a picture that a customer sent in of the 12" x 24" set of aspen canvases in their study along with 3 little abstract original paintings (on the right) by artist Linda Paul
You also might like these works of art by artist Linda Paul
Seeing IS believing and we believe you will absolutely love your art purchase from "Linda Paul Studio". 100% money back guarantee if you are not completely enraptured with your purchase."