Wine a
nd Roses Tile Kitchen Backsplash Mural by artist Linda Paul
Beautiful kitchen tile mural by American artist Linda Paul of a stone terrace with sculpted roses, wine and bread overlooking an impressionist landscape. Made in my Colorado art studio.
Lovingly hand-crafted in Linda's Colorado art studio.
Artists inspiration:
I love Tuscany and I love roses! I like to juxtapose sculptural still life elements of nature against soft impressionist landscapes. This artwork had a magical feeling from the day I started the first sketches.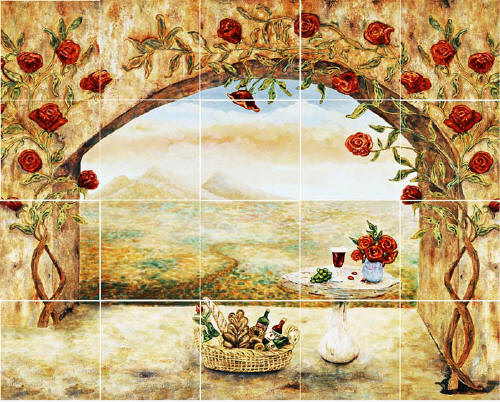 Wine and Roses by American Artist Linda Paul
Price $
499.00
and up

Pricing & Online Shopping
6" x 6"

x 3/8" porcelain

tile mural backsplash
Longer EV version of Wine & Roses
6" x 6"

x 3/8" porcelain

tile mural backsplash

Super Extended Version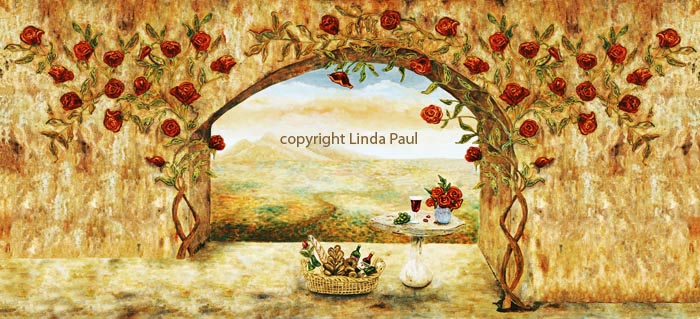 6" x 6"

x 3/8" porcelain

tile mural backsplash

Accent Tiles 6" x 6"

x 3/8" porcelain

$50.00 each (can also be ordered in a 4.25" x 4.25" x 1/4" thick size)


glass of wine and roses


roses tile

Dimensions are given as length first, then height.

Don't know What Size to Order?
If you are not sure which size of backsplash mural to order, just email us a straight on picture or design drawing of the space you have for your backsplash and we can tell you which is the best size for your space. Be sure to include all dimensions. We can design the perfect backsplash mural just for you! Artist Linda Paul is an expert in designing her images to fit your space perfectly!
email our tile design experts or call 1-800-936-9958 to order or inquire
toll free from USA, Canada, the Caribbean, Alaska or Hawaii

Our murals ship in approx. 4 weeks, free shipping in USA and to Canada see our in stock murals
you can expedite your order
to ship in 2 weeks for an additional charge of $100.00
just click add to cart
Installation Pictures
Wine and Roses Mural with Matching hood border tiles


In this photo artist Linda Paul designed a matching decorative rose tile border to go around the cooktop hood which was custom made by California Custom Cabinetry in Petaluma, CA

Customer review:
"We finally have the mural done and it turned out great! Even better than we expected. Everyone that sees it really likes it and wants to know where we got it. We make sure we tell them! We are very proud of the mural! Thank you (especially for adding the rose in the middle of the top trim part). Bob and Barbara Weber.
"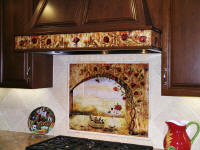 A Beautiful Kitchen!


This kitchen features classic styling with gorgeous custom woodwork a large granite island and of course a tile mural backsplash of Wine and Roses by artist Linda Paul

click picture to see larger images


For this installation, the customer used two colors of grout: a lighter one for the background area, then a darker one for the arch. This works well when you don't want to break up the image with contrasting grout colors.


Our Wine and roses backsplash mural in this fabulous summer outdoor kitchen. The customer also used the rose border around the vent hood
Custom
: We can create our Roses and Vines (below) or Wine and Roses with under cabinet side wings and top extension to ceiling
Check out these before and after pictures of this custom Roses and Vines backsplash installation see the design process of this project
Dear Linda, The Wine and Roses mural came today. The mural is so beautiful. I love the richness of the colors and the elegance of the design. It was also packed very very well. We will love it all our lives. Thank you. Suzane
"I really am glad that I purchased the Vines and Roses mural for my kitchen. My kitchen is small and the mural behind the sink is absolutely gorgeous and the focal point of my new kitchen. I've received many compliments from friends and family on the beauty of the mural and what is adds to the kitchen" sandy
you also might like these art and tile products from Linda Paul Studio