Fleur de Lis Tile Inserts: hand-painted by artist Linda Paul.
Install between tiles or glue on top (onlays)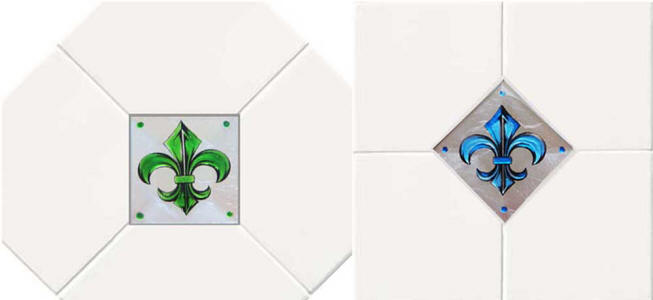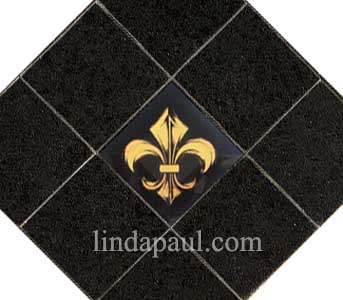 Fleur de Lis 2" x 2" and 4" x 4" beveled glass tile inserts in many colors and metal finishes
$
39.95
and $59.95 special introductory prices

These beautiful fleur de lis accents are hand painted by Linda Paul behind glass. Then the painting is backed with silver, copper or 24 karat gold. The translucent paint and metal leaf catches and reflects the light beautifully. You can insert these glass tiles between other tiles in your backsplash, or glue on top of other tiles or surfaces (see below for description and pictures of both styles). Fleur de Lys tiles are available as diagonal or horizontal tiles. Pick a color to accent in your kitchen or match your cabinet hardware etc.


Fleur de Lis Jewels Collection ,

hand-painted

glass tiles
With beveled glass in sizes: 2"x 2" from $39.95 , 4"x 4" from $59.95 and 6" x 6" $79.95 each with free shipping.


Shop Online for the 2x2 or 4x4" sizes. When adding these tiles to your cart, select the style as: 1/4" Thick TILE (with backerboard)
or
ONLAY (for glueing on top of other tile or surfaces) see picture of these two styles. Also select whether you want the tile horizontal or diagonal orientation.
Questions? 800-936-9958

New from artist Linda Paul!
Black and Silver Fleur de lis Glass Tile Horizontal or diagonal
with beveled glass in sizes: 2" x 2" $39.95, 4" x 4" $59.95 and 6" x 6" $79.95 can be ordered as a 1/4" thick tile or 1/8" glass onlay. please contact us to order

Can also be made in a 12" x 12" size, diagonal or horizontal for $259.99
Note" these are hand-painted and hand-silvered so sometimes there are tiny bubbles and little wrinkles in the solver. This the character of something made my hand

We have a framed diagonal one in stock . see this page to buy it online or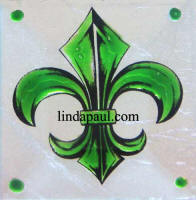 Peridot Grass Green & Silver
2x2 or 4x4 Fleur de lis Glass tile
(August birthstone color)
1 2x2 horizontal, onlay or tile in stock
Lead Time:
in stock onlays ship right away. Allow an extra few days if ordering as a tile (with backerboard) If not marked in stock, Please allow 3 to 4 weeks for Linda to make the tiles for you
These fleur de lis tiles are hand-painted so sometimes there are little bubbles trapped in the paint or between the paint and the glass. This adds to the charm and lets you know this is a hand-painted and not a manufactured item

This picture show the two styles of our glass accent tiles from the side and back. This is for our 2" x 2", 4" x 4" and 6" x 6" styles. The 12" x 12" size can be made on flat 1/4" thick glass or we can bevel the glass (which reduces the thickness of the edge, but not the center)

The 24 karat gold tiles have old gold color on the sides
Sports Team Tiles for your backsplash!


Artist Linda Paul hand-paints these tiles in any color. You can have a two tone tile made with the colors of your favorite sports team or just order single tiles in the individual team colors.

We also have the colors of tiles that correspond to birthstone gems. Its a great way to personalize your backsplash with a nod to your favorite people.

The tiles to the left are perfect for LSU fans!
Custom colors and sizes are welcomed. Just contact us
Installation Options:

1/4" thick tile - Installs Between Other Tiles:
The glass itself is 3/16" thick in the center and 1/8" at the edges (because of the bevel ). We add a 1/8" board to the back so the entire piece is 1/4" thick and can be installed in between your other tiles. The tiles install just like our regular ceramic or marble tile.






Glue on Onlay Style:


You can also glue the glass tiles on top of existing tile. In that case, we do not add the back board so tile thickness at edge is 1/8". Glue on top of other tile with two part epoxy. You can seal the edges with clear silicone. The color for the 1/8" glass side is silver grey
Frame and Hang as wall home decor:
The 4x4" glass fleur de lis make great gifts. They can be framed and hung in your home as wall decor.
See our frames
Installing in a shower:
Please let us know if you want to install these tiles in shower, outdoor or commercial area. We can add an extra diamond hard clear coating to the sides and back to protect it from excess water etc. Extra $10.00 per tile
Artist's inspiration: I love symbolism of the fleur de lis which is solidarity. The fleur de lis is a stylized lily. Fleur means flower in French and lis means lily. It has long been used in history for everything from decorative ornaments to kings and military insignia. In July 2008 the fleur-de-lis became the official symbol of the state of Louisiana. Actual French translation of fleur de lis is flower of the lily


Customer review of Linda Paul's Glass backsplash art," "The art glass arrived today and it is even more beautiful than I expected. We are so happy with the art. It gives interest and focus to the tile backsplash over the stove. The colors of the art are beautiful and the piece creates the illusion of being lit from within. It's been a pleasure to do business with you and I will certainly recommend your company highly. " Kathy Rooney, NY


email our tile design experts or call 1-800-936-9958 to order or inquire
toll free from USA, Canada, the Caribbean, Alaska or Hawaii
you also might like these fleur de lis metal accents, paintings and kitchen backsplash medallions from Linda Paul Studio