Color Me Italian
Tile Kitchen Backsplash Mural by artist Linda Paul
Features Italian tile design with leaf border and berries in the four corners. The center piece is a still life design of leaves, lemon, olives, pear, pineapple, orange, mini peppers, fig and apple
Artist's Inspiration:
Artist Linda Paul has always been inspired by Italian Art and all things Italian! Rich Tuscan colors helped inspire this classic design. What could be more perfect for Tuscan style kitchens!
Buy as vertical, horizontal or square orientations in many sizes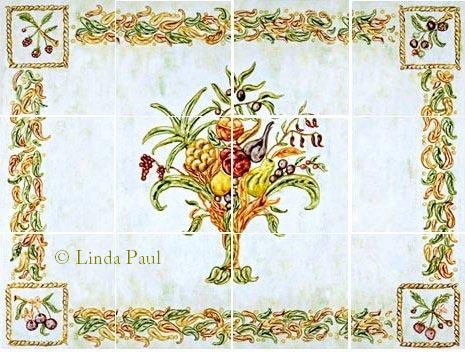 Color Me Italian by American Artist Linda Paul
Price $
499.00
and up

Our beautiful murals and accent tiles are available in porcelain/ceramic or marble tile.
Marble tile murals have a 35% surcharge. Please contact us to order your mural with marble tile
more details about tile types, sizes etc



Our standard finish is a satin finish, Just let us know if you want a glossy finish (same price)
Pricing & Online Shopping
6x6"

x 3/8" porcelain

tile mural backsplash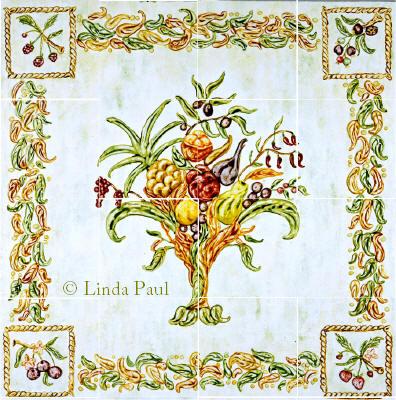 Square version of Color Me Italian
6x6"

x 3/8" porcelain

tile mural backsplash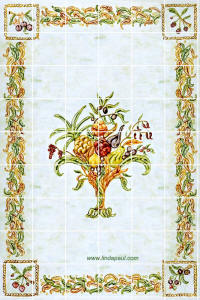 Vertical version of Color Me Italian


6x6"

x 3/8" porcelain

tile mural backsplash
Berry Accent Tiles 6" x 6" x 3/8" porcelain $50.00 each (can also be ordered in a 4.25" x 4.25" x 1/4" thick size)
Leaf Border tiles - You can order our fabulous border tile of fall leaves in
any
length you need on 6x6" tile $50 per tile


You can also buy my Color Me Italian as a longer horizontal design in these sizes: 24" x 12" $499.00 , 36" x 18" $649.00 or 48" x 24" $1119.00

H
eat setbacks from traditional stovetops
Ceramic/porcelain or marble tile murals must be set 6" above and 2" back from any heat source. Hot pots/pans should be kept 2" away from the mural. A stone chair rail or pencil border around your mural will help to deflect heat from below

Do not install ceramic/porcelain or marble tile murals above stoves that have a heat vent on the back. The heat that comes out of these oven vents is extreme

Dimensions are given as length first, then height.
Don't know What Size to Order?
If you are not sure which size of backsplash mural to order, just email us a straight on picture or design drawing of the space you have for your backsplash and we can tell you which is the best size for your space. Be sure to include all dimensions. We can design the perfect backsplash mural just for you! Artist Linda Paul is an expert in designing her images to fit your space perfectly!
email our tile design experts or call 1-800-936-9958 to order or inquire
toll free from USA, Canada, the Caribbean, Alaska or Hawaii

Our murals ship in approx. 4 weeks, free shipping in USA and to Canada see our in stock murals
you can expedite your order
to ship in 2 weeks for an additional charge of $100.00
just click add to cart
Installation Pictures
A Classic yet Contemporary Style Kitchen with our 24" x 24" square Color Me Italian tile mural on ceramic tile with matching accents in the backsplash

Customer who installed this backsplash says, "I wanted to share the final pictures of our backsplash. I couldn't be happier! It adds such a warm and eye-catching dimension. Even my boys ages 11 & 15 appreciate its beauty. Thank you!" Kaaren Urbandale, IA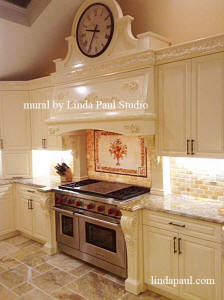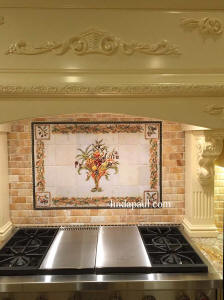 A French Country Beauty

Here is our Color Me Italian on 6x6 marble tile installed in a beautiful French Country Kitchen. The mural is bordered by our .75" rope liner border. Love the huge clock on the hood!
square version of Color Me Italian installed over sink


you also might like these art and tile products from Linda Paul Studio