Kitchen Tile Murals and Backsplashes for Kitchens Pg 3
Click on any picture below to see other versions, prices, sizes, matching accent and border tiles
you are on page 3, go to pg1 pg 2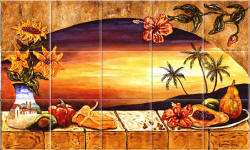 Sunset Window
Tropical kitchen window with sunset over the ocean, sunflowers, peppers, avocado, tamales, papaya, lime and palm trees. Great for Mexican, Southwestern or tropical kitchens!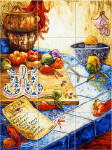 Salsa Mexican kitchen splash back mural with peppers, garlic lemons, blue tile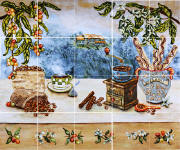 The Art of Coffee Coffee tile art mural with coffee beans, cups, blooms, bags of coffee, and fabulous accent and border tiles.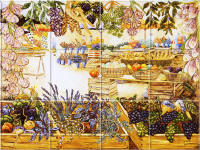 Market Day Beautiful backsplash tiles of a French marketplace. Perfect for European style decor. matching decorative tile accents and square version of mural too.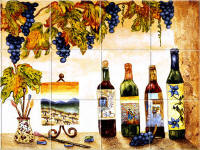 Wine & Art
Beautiful stone splashback mural of a window with wine bottles, grapes, and art. Each wine label has a picture of one the artist's other paintings.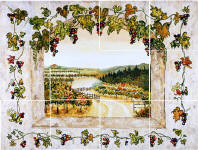 Grapes n' Vines
Kitchen mural and decorative
splashback tiles of colorful hanging grapes, grapevines and an autumn vineyard view on tile.

Sunset Over Tuscany
tile backsplash mural with grapes, wine, olives, cheese and pears and a Tuscan village


Buy kitchen backsplash mosaic tile medallions, metal tiles, accents and tile murals for behind stove and sink areas. Kitchen backsplashes of wine, vineyards, grapes, sunflowers etc. Prices start at $399.00 and up for backsplashes and $16 for decorative accents and tile borders. Tile murals are designed and created by artist Linda Paul in her Colorado studio. They are beautiful and durable!

Free Shipping
We just completed our custom built dream home with a gourmet chef's kitchen and your Tuscany Arch mural is at the center piece of our cooking station. I even had the builder put in a lighted custom designed niche to frame and highlight your mural. We also have the Tuscany accent tiles which blend in with our backsplash perfectly. we could not be happier with our Tuscany Arch mural. I will definitely be ordering more from you in the future.
Chris and Amy Cho,New Braunfels TX October 2010
Tuscany Arch backsplash