The Lemon Tree original egg tempera painting by artist Linda Paul
;Mediterranean inspired painting of a lemon tree and garden with lily pond, bowl of lemons, bougainvillea vine, looking out a patio door to a lemon orchard. Free shipping in USA and to Canada
Sale price $99.00 with free shipping in USA Wow!
Size 30" wide x 24" high x 2" deep
Questions? call 800-936-9958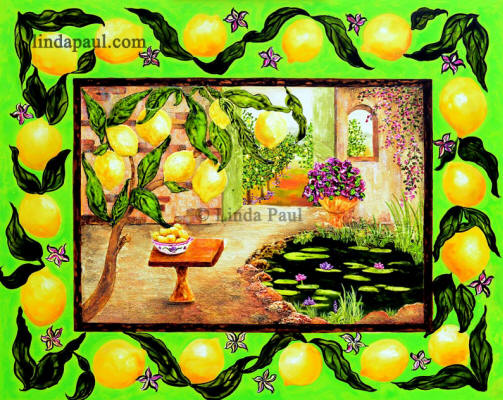 Artist Inspiration:
I love lemons! My Italian lemons coffee cup was the inspiration and starting point for the lemon border in my Lemon Tree painting. I bought the cup in Montepulciano, Italy from a fabulous little pottery store that sold hand-painted china. Recently the store excavated the basement and discovered a hole in the ground where workers had poured the massive bronze bell for the church back in the 10th century. Montepulciano is one of my favorite Italian towns

the picture shows some of the paint I made for this painting and my original little sketch.
original sketch for my lemon tree painting
Colors of painting are: green, yellow gold orange brown.
This original artwork was painted in a combination of acrylic and egg tempera paint. The acrylic gives it a sealed, slightly glossy finish. It is painted on a cradled art panel that is 30" wide x 24" high x 2" deep. The sides are painted a dark green and it arrives ready to hang on your wall. Its vibrant colors will make any home a happier place
You also might like these works of art by artist Linda Paul
Questions? call 800-936-9958