Beautiful mosaic tile frame with hand cut mosaic tiles and decorative grapevine accents in your choice of 19 different metal finishes and 7 choices of stone colors. The stones are cut to fit around all the metal pieces. The frame comes mounted on a mesh backing. Its perfect for framing a kitchen backsplash mural or mirror

. Lovingly hand-crafted in the USA.

.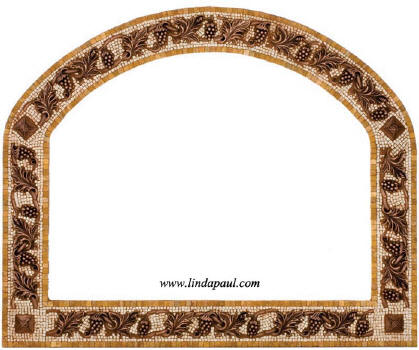 Outer dimension is 45.5" x 37.5"- Interior dimension is 35.5 x 27.5"

Venito arched grapevine frame with gold travertine and Florito Botticino mosaic tile
and grapevine border in custom finish of oil rubbed copper finish with a highlight polish
price $
1849.00

close up picture of section of frame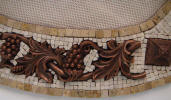 A fabulous kitchen backsplash idea is our 36" x 28" Version A Vineyard tile mural with the Venito grapevine frame
Your tile installer can cut the top of the 36 x 28" Vineyard with a wet saw to fit the frame. You must grout the mosaic frame, but you do not have to grout the mural
If you push the mural tiles tight together , the 36" x 28" Vineyard mural actually measures 35-3/8" x 27.5", so you just have to cut the arch at the top
The accents on the frame are high quality metal coated resin. They are available in many different finishes (see bottom of page) including oil rubbed bronze, copper and stainless steel.



Note: California shipments will be charged 3.7% sales tax. This will not show up in the online ordering system. You will get a second email confirmation with the tax added
Chateau grape mosaic tile frame
Our 24" x 16 " Vineyard version B mural backsplash shown in a Chateau grape custom mosaic frame
Outer dimension of frame is 31" x 24". Inner dimension of frame is 23" x 16"

If you press the 24" x 16" Vineyard mural tiles tight together it actually measures 23-5/8" x 15-3/4", so you just have to cut a bit of the arch at the top and a smidgen of one side .
go to Chateau Grapevine mosaic tile frame
Buy a sample for $5.00 each

samples ship out immediately via usps mail
Can't decide what metal finish to order? Buy a sample for $5.00 each - online shopping below Samples are limited to one per color.
Samples are a great way to compare and match metal colors before you order metal tiles or a medallion.


Copper High Polish

Copper Highlight Polish

Copper Antique Patina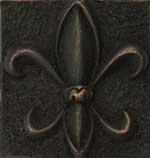 Copper Oil Rubbed

Bronze High Polish

Bronze Highlight Polish

Bronze Antique Patina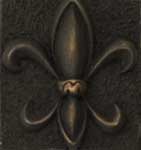 Bronze Oil Rubbed

nickel silver high polish

Nickel Silver highlight Polish

Nickel Silver Antique Patina

Nickel Silver Oil Rubbed

Brass High Polish

Brass Highlight Polish

Brass Antique patina

Stainless Steel High Polish


Iron Rust (dark brown)

Iron Wrought (black)