French Bistro Art on Canvas by artist Linda Paul
French Bistro -  Limited Edition Canvas Art Prints of a French village. Can't you just imagine yourself walking down the lane and looking at all the wonderful stone architecture that is so typical of old France, Then you stop at a French restaurant or Bistro for a relaxing lunch. This wall art is perfect for French Decor.
Questions call 303-818-2663 or email us
copyright info will not appear on the artwork that you purchase
Online shopping and pricing for

Ready- to-Hang
(stretched canvas no frame needed)
Ready to hang on your wall!
Canvas Art:
Sizes: Sizes: 12" x 16", 16" x 20", 20" x 24", 24" x 30", 30" x 40",
36" x 48". Canvas is stretched over 1-1/2" stretcher bars, with hand-painted sides and hanging hardware attached.

No frame needed!
more info on stretched canvas
Select size from drop down list
Artist's Inspirations:
My inspiration for this artwork is my love of France and all things French! Especially the food and little medieval villages. The painting was inspired in the town of Sarlat. It has wonderful winding streets and all the buildings are old stone architecture. There are fabulous restaurants around every corner. In fall, wild mushrooms are in season. I took some artistic license with the signs for the restaurant, bistro , and pub! They are my name, my husband's and of course the pub is le Saucy dog, after my Cocker Spaniel. I can personalize the restaurant names for you.

side view
Ready to Hang Canvas Art
The canvas is wrapped around 1-1/2" stretcher bars with hand-painted sides.
These artworks need no frame & arrive at your door ready to hang on your wall.


more about our canvas prints

Free Shipping in USA and To Canada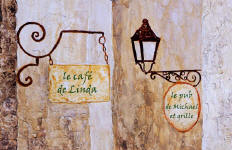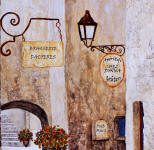 Customizing the restaurant Signs
You can have the 2 or 3 restaurant signs personalized with your name!
Additional $100.00
if there is a particular font or style you like, just contact us
After a year and a half spent remodeling the family home, I finally got to put on the crowning touches — my personalized French Bistro print and the stupendous Metaphor triptych! They have each found their perfect place in my "new" home — the French Bistro is the perfect complement to my French kitchen. I know I will never tire of looking at these two pieces. Your work is superb and really completed my home. Thank you! Donna Macgregor
" we received our personalized painting (French Bistro) last week. Just hung it in our kitchen this morning. It is exquisite - you do beautiful work. Thanks so much for a quality art piece we will have for years to come. Michael and Linda Kelly - Red Lion, PA

more customer comments
You can also order French Bistro as a
wall tile mural
or kitchen backsplash. Its perfect for French style decor.
You also might like these works of art by artist Linda Paul
Questions call 303-818-2663 or email us