Questions, comments, or to order email the artist or call toll free 1-800-936-9958 or 303-604-9958 Colorado Shop Online! Free Shipping in USA - orders will ship within 5 days

This is an original painting by artist Linda Paul. It is painted in pure egg tempera made from crushed stone and egg yolk. The blue color is pure azurite and lapis lazuli. The yellow and gold ocher is earth from France. The beautiful sage green color is from Verona Italy. Egg tempera is a very old method of painting. It is luminous & full of life. These paintings will last for centuries.
Click here for canvas prints of the above painting: 10" x 10" $89.99 or 20" x 20" $199.00 stretched, frameless, ready to hang.
About this Western art series by Linda Paul:
You can take the girl out of the prairie, but you can't take the prairie out of the girl. Artist Linda Paul was born and raised in the prairies of Saskatchewan, Canada. Many a childhood summer was spent biking, then driving on back roads and exploring abandoned farmhouses. The freedom of the prairie landscape gets into your soul. She moved to Colorado and for the last few years has been painting scenes of Tuscany & France. Well chickens come home to roost and she has begun her western art series. You can see the transition in her Blue Sky paintings where she actually starts out in Italy and ends up back in the west.
Customer picture of Prairie Sky Painting over fireplace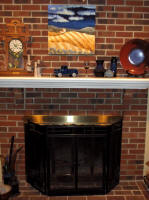 We received the painting today. We loved it! Here it is, hung above our fireplace. It is, of course, beautiful. Many thanks. Joel Williamsen Clifton, VA
more Customer Comments

'I received your painting a few days ago. It is simply breathtaking. I was so impressed with your artistic style and with the brilliance of the contrasting colors. You have really captured the true essence of the Tuscan countryside. Maureen Rathnam " more customer reviews