Chili Pepper Kitchen Art on Canvas by artist Linda Paul
Limited Edition print on canvas of kitchen window overlooking a chili pepper farm with old truck ready for the market. Mama is picking peppers in the field.
Questions call 303-818-2663 or email us
copyright info will not appear on the artwork that you purchase
Online shopping and pricing for

Ready- to-Hang
(stretched canvas no frame needed)
Ready to hang on your wall!
Canvas Art:
Sizes: 10" x 8" x 1-1/2", 16" x 12", 20" x 16", 24" x 20", 30" x 24",
40" x 30", 48" x 36". Canvas is stretched over 1-1/2" stretcher bars, with hand-painted sides and hanging hardware attached.

No frame needed!
more info on stretched canvas
Select size from drop down list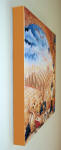 side view
Ready to Hang Canvas Art
The canvas is wrapped around 1-1/2" stretcher bars with hand-painted sides.
These artworks need no frame & arrive at your door ready to hang on your wall.


more about our canvas prints

Free Shipping in USA and To Canada
Review:
"Chili Pepper Kitchen art on canvas"
by Julie Kuper
I received my latest piece of artwork from you "Chili Pepper Kitchen" and it is absolutely beautiful. I just wanted to say thanks again for creating such wonderful artwork. Keep up the good work.
more customer Comments

Thank you so much for the BEAUTIFUL painting. It brings a breath of sunshine to my kitchen! Sincerely, Nina Peterson


Review: "Chili pepper Kitchen canvas artwork" by Paula McAfee
Dear Linda, My beautiful canvas arrived today and I must share with you my sincere joy. I recently moved to a townhouse without a window above the kitchen sink. I decided to seek a "faux window" and use my imagination when doing the dishes, etc. To my utter amazement, the window you painted overlooking the chili pepper field is incredible! The colors are so vibrant and the texture is amazing. I am truly looking out a window and just might find myself calling out to the woman in the field inviting her in for a cold glass of ice tea! Linda, thank you so much for sharing your talent...I will treasure this canvas forever.

I received the artwork yesterday and it looks great! I was looking for something unique and different to put in my kitchen and found your site. The painting fits perfectly with the look I'm going for. I found the site by searching online for "Southwest prints". Thanks Susan Byer"

You also might like these works of art by artist Linda Paul