Coffee and Italian Barista Kitchen Paintings - original art paintings by artist Linda Paul
Questions call 303-818-2663 or email us

Artist's Inspiration: I love coffee. Don't know how I could paint without it. These originals are sculptures as well as paintings. I sculpted the elements in bas -relief before painting them in pure egg tempera. You can see my process below.
On sale for $149.00 each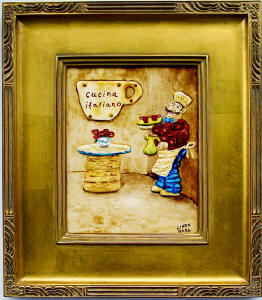 This Italian chef and barista will add a splash of red to you kitchen decor. The coffee cup sign of the wall says "cucina italiano" which means Italian Kitchen
Here is how Coffee & Kisses was created
I was having my morning coffee and doodling on a piece of scrap paper and came up with this sketch. I wanted to focus on a theme of coffee and kisses as a morning menu. You can take that as coffee and Hershey's kisses, or coffee and kisses of love which is a great way to wake up. I thought it would be fun to have the coffee cup adorned with different languages of love and kisses, such as: amore (Italian for love), bisou (French for kiss), besos (Spanish for kiss), honi (Hawaiian for kiss), Mau Loa (Hawaiian for forever)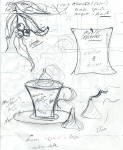 Here I have completed my sculpting for "Coffee and Kisses" and have begun to paint the under layers of egg tempera. I always mix my base colors with white so the paint has something to grab on too. This is called "tooth" . For my base colors I am using natural earth ochers from France.
The two Hershey's Kisses I have sculpted in bas-relief then gilded them with pure silver leaf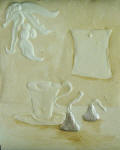 You also might like these works of art by artist Linda Paul

Seeing IS believing and we believe you will absolutely love your art purchase from "Linda Paul Studio". 100% money back guarantee if you are not completely enraptured with your purchase."