Louisiana Kitchen Art on Canvas by artist Linda Paul
Canvas Art Print of a Cajun kitchen overlooking a bayou with crab shack, hanging garlic, old Louisiana wood shutter, blue crab, red and green peppers, okra, celery, gumbo bowl, gator bait hot sauce and bayou "to do" (voodoo) list This print is perfect for New Orleans and Louisiana decor. Limited Edition



Artist's Inspiration:

I had an idea to do a New Orleans art series inspired by a Louisiana kitchen & down home southern & cooking. I really wanted to have the feel of a cajun kitchen on the bayou. The "To Do" shopping list on the right (of which my life has many), has turned a phrase into a "voodoo" list (being a Louisiana painting and a fun play on words)



Questions call 303-818-2663 or email us
copyright info will not appear on the artwork that you purchase
Online shopping and pricing for

Ready- to-Hang
(stretched canvas no frame needed)
Ready to hang on your wall!
Canvas Art:
Sizes: 10" x 8" x 1-1/2", 16" x 12", 20" x 16", 24" x 20", 30" x 24",
40" x 30", 48" x 36". Canvas is stretched over 1-1/2" stretcher bars, with hand-painted sides and hanging hardware attached.

No frame needed!
more info on stretched canvas
Select size from drop down list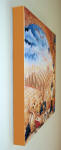 side view
Ready to Hang Canvas Art
The canvas is wrapped around 1-1/2" stretcher bars with hand-painted sides.
These artworks need no frame & arrive at your door ready to hang on your wall.


more about our canvas prints

Free Shipping in USA and To Canada


Review: "Louisiana Kitchen canvas artwork" by PATRICIA C ESCARRA, METAIRIE, LOUISIANA I HAVE TO SAY THAT IT WAS A GREAT PLEASURE TO DO BUSINESS WITH YOU, FROM THE QUICK CONFIRMATION OF MY ORDER TO THE SHIPPING CONFIRMATION AND ACTUALLY RECEIVING THE PRODUCT IN JUST THREE DAYS FROM ORDER DATE WAS GREAT AND EXCITING. WHEN I OPENED MY PACKAGE AND SEEN THAT THE PICTURES WAS JUST AS VIBRANT IN PERSON AS ON THE INTERNET I WAS THRILLED AND COULD NOT WAIT TO GET THEM UP. IT'S SIMPLY BEAUTIFUL. THANK YOU SO MUCH!!!!
I ordered the Louisiana Kitchen, "16x12", Limited Edition Canvas print. I requested the print be framed when delivered. I received exactly what I asked for and MORE. Mrs. Paul contacted me by e-mail with in minutes of receiving my order. She offered the best solution for shipping and was very honest and sincere advising due to the weekend approaching overnight shipping was not the most economical method to us. The next update I received stated Mrs. Paul was personally packing the framed print and would confirm shipping. Well, the next morning I had the confirmation e-mail waiting on me! Mrs. Paul had confirmed shipping and offered a UPS tracking # as promised. Mrs. Paul did not mention the Print I would receive would literally take my breath away! I am completely stunned, as well as the Office Staff I work with. I am a very please and completely satisfied customer and look forward to continuing business with Mrs. Paul. I can assure you, the next print ordered will be for myself, and NOT A GIFT!! Mrs. Paul, Thank you for the Beautiful First Impression, and winning me over. p.s. Thank you for the Little Extra HAPPY included!!! (I love it!) Nancy Ladnier, Mississippi
You also might like these works of art by artist Linda Paul