Table for Two and The Flower Shop by artist Linda Paul
set of 2 Canvas artworks of an Italian wine bar and cafe: features food, wine, purple flowers and grapes and matching artwork of French flower shop, wisteria and roses. Limited Edition

from $

89.99

to $549.00

Artist's Inspiration:  I love Italy and have traveled there several times. I am especially fond of the little outdoor cafes, wine bars and flower shops. Its wonderful to spend a few hours having cheese, tapenade and a nice glass of wine while watching the small dramas of an Italian village unfold. The little menu on the wall reads in Italian," vino rosso, vino bianco, dolce and caffe. " (translation - red wine, white wine, dessert and coffee)
Select size from drop down list
Select size from drop down list
Ready- to-Hang
(stretched canvas no frame needed)
Ready to hang on your wall!
Canvas Art:
Sizes: 10" x 8" x 1-1/2", 16" x 12", 20" x 16", 24" x 20", 30" x 24",
40" x 30", 48" x 36". Canvas is stretched over 1-1/2" stretcher bars, with hand-painted sides and hanging hardware attached.

No frame needed!
more info on stretched canvas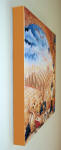 side view
Ready to Hang Canvas Art
The canvas is wrapped around 1-1/2" stretcher bars with hand-painted sides.
These artworks need no frame & arrive at your door ready to hang on your wall.


more about our canvas prints

Free Shipping in USA and To Canada
"

Customer Review of Table For Two artwork

"
by Julie
"I absolutely love the Table for Two and matching print. The Flower Shop. They actually look more beautiful than on the internet. And they do look great together. They add that extra special touch to my kitchen - just what I was looking for. We spend so much time in our kitchen - I'm glad I finally got around to buying some art. Thank you for all of your feedback on this. Your art is beautiful and I'll probably talk to you again when we are decorating the dining room!
"
You also might like these works of art by artist Linda Paul
Seeing IS believing and we believe you will absolutely love your art purchase from "Linda Paul Studio". 100% money back guarantee if you are not completely enraptured with your purchase."