Tuscan Kitchen Tapenade Art on Canvas by artist Linda Paul
Limited Edition art print on canvas of window overlooking a misty Tuscan landscape and hill town with still life of olives, olive oil, lemons & all the ingredients you need to make a fabulous black olive tapenade including recipe! There is even a hummingbird that comes to visit your Tuscan kitchen window.

Questions call 303-818-2663 or email us
copyright info will not appear on the artwork that you purchase
Online shopping and pricing for

Ready- to-Hang
(stretched canvas no frame needed)
Ready to hang on your wall!
Canvas Art:
Sizes: Sizes: 8" x 10", 12" x 16", 16" x 20", 20" x 24", 24" x 30", 30" x 36"
Canvas is stretched over 1-1/2" stretcher bars, with hand-painted sides and hanging hardware attached.
No frame needed! more info on stretched canvas
Select size from drop down list

Artists Inspiration: My inspiration for this artwork is my love of Tuscany and all things Tuscan! I love the rolling hills and little towns which are perched on the top of all the hills. In the morning they are surrounded by mist and seem to be floating on clouds. I also love Tuscan food, especially tapenade which is a tasty appetizer of finely chopped garlic, olives, rosemary capers, lemon, olive oil and sea salt. Serve it on crostini. These canvas prints are perfect for your kitchen and Tuscan home decor!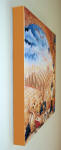 side view
Ready to Hang Canvas Art
The canvas is wrapped around 1-1/2" stretcher bars with hand-painted sides.
These artworks need no frame & arrive at your door ready to hang on your wall.


more about our canvas prints

Free Shipping in USA and To Canada
My canvas artwork from Linda Paul's Studio is fabulous! The rich colors on canvas gives the look and feel of old time yet the beauty of today's Tuscany decor. There's a fine line between great art and a good Tuscany feel. Linda's work has captured, not only the fine line, but also the essence of being there. Thanks Linda! I love all three of my kitchen canvas'. Sincerely, Barbara Pelzel San Antonio, TX
more customer reviews
"I am so thrilled with my beautiful new artwork! The colors are so vibrant and it is a perfect fit for our Tuscan kitchen. I find myself staring at every little detail; I just love the hummingbird and honey bottle! I can't thank you enough for providing the finishing touch to our new kitchen! I really appreciated how quickly it arrived, since once I placed the order, I was so excited to see it! It arrived in perfect condition. Thank you, Claire Frapaul"

You also might like these works of art by artist Linda Paul
Questions call 303-818-2663 or email us