Tuscany in The Mist Art on Canvas by artist Linda Paul
Canvas art prints of misty Tuscany landscape with Italian villa and cypress trees. Small or large wall art prints up to 60" x 30" Hand-signed Archival Limited Edition Prints.|


Questions call 303-818-2663 or email us
copyright info will not appear on the artwork that you purchase
Online shopping and pricing for

Ready- to-Hang
(stretched canvas no frame needed)
Ready to hang on your wall!
Canvas Art:
Sizes: 24" x 12" x 1-1/2", 36" x 18", 48" x 24", 60" x 30".
Canvas is stretched over 1-1/2" stretcher bars, with hand-painted sides and hanging hardware attached.

No frame needed!
more info on stretched canvas
Select size from drop down list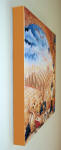 side view
Ready to Hang Canvas Art
The canvas is wrapped around 1-1/2" stretcher bars with hand-painted sides.
These artworks need no frame & arrive at your door ready to hang on your wall.


more about our canvas prints

Free Shipping in USA and To Canada
Artists inspirations:
This quintessential Tuscany landscape is found outside
Pienza, Italy.
Pienza is the most beautiful little Tuscan town, famous for it pungent cheese. Its one of my favorite places and I hope to return there someday. I am always enchanted by cypress and olive trees, winding roads and old Tuscan farmhouses. Artist Linda Paul
"Dear Linda, I have never ordered any artwork online before and I was amazingly surprised to have received the most beautiful canvas art print "Tuscany in the Mist". The quality looks like an original and it works perfectly with my master bedroom decor. I have shared with my friends and they could not believe it was a print. I am going to look for more of your work soon. It was also so nice to be able to talk to you about the piece before I purchased it. You made me feel comfortable that I could return it if I was not happy with it for our money back. Donna Snyder, Ormond Beach, FL "
More Customer Comments
Hi Linda, It has taken some time to get your picture framed, it's now finished. The space where it now hangs has been empty for more than three years, it's taken that time to find the 'exact' picture to fill the space. Our, my wife and I, visits to Toscany and Provence have never come up with the 'trump card'. Imagine, a resident of Europe finding the picture in Colorado.
Again, many thanks for a lovely print. Gordon Dawson Belgium


You also might like these works of art by artist Linda Paul