Tuscany Arch - Tuscan Art on Canvas by artist Linda Paul
Limited Edition art print on canvas of window overlooking a Tuscany landscape and farmhouse with still life of wine bottles, olives, grapes, pears and cheese from Italy. This artwork is perfect for Tuscan decorating!
Questions call 303-818-2663 or email us
Artists inspiration:
My inspiration for this artwork is my love of Italy & all things Italian! I love the rolling hills and cypress trees, arches and architecture. This artists' favorite cooking & restaurants are of course Italian. These canvas prints are perfect for Tuscan decorating!
copyright info will not appear on the artwork that you purchase
Online shopping and pricing for

Ready- to-Hang
(stretched canvas no frame needed)
Ready to hang on your wall!
Canvas Art:
Sizes: 10" x 8" x 1-1/2", 16" x 12", 20" x 16", 24" x 20", 30" x 24",
40" x 30", 48" x 36". Canvas is stretched over 1-1/2" stretcher bars, with hand-painted sides and hanging hardware attached.

No frame needed!
more info on stretched canvas
Select size from drop down list
OMG we love your painting (Tuscany Window), we recently built a wine cellar and it fits perfectly on one of the walls. You are so talented, I'm sure I'll be shopping again! Take care, Jeanine Blumenfeld
My canvas artwork from Linda Paul's Studio is fabulous! The rich colors on canvas gives the look and feel of old time yet the beauty of today's Tuscany decor. There's a fine line between great art and a good Tuscany feel. Linda's work has captured, not only the fine line, but also the essence of being there. Thanks Linda! I love all three of my kitchen canvas'. Sincerely, Barbara Pelzel San Antonio, TX
I just wanted to thank you for your beautiful artwork! I am so happy I found your website! I went to yahoo and typed a search for Tuscan paintings and your website was one of the first ones that came up in my search, and when I saw your paintings it was the only site I needed!! It was hard for my husband and I to narrow our choices down from all of your paintings to our chosen and favorite one "Tuscan Window"! It was indeed a good choice, we absolutely love it and the stretched canvas is gorgeous! We are so pleased with it and will cherish it forever! It is our favorite painting in the kitchen! We went to Italy for our first wedding anniversary and it brings back so many happy memories for us Thank you for sharing your beautiful work and talent with We will definitely refer all of our friends to your website when they admire our Tuscan Window! Thank you again, and keep up the beautiful paintings and god bless your given talent as an artist!! Sincerely, Mr & Mrs Milford from Florida.
more customer reviews
Need a longer size? Tuscany Arch Extended version comes in these sizes

30" x 18" $399.00
40" x 24" $549.00
50" x 30" $699.00
60" x 36" $699.00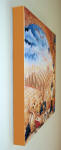 side view
Ready to Hang Canvas Art
The canvas is wrapped around 1-1/2" stretcher bars with hand-painted sides.
These artworks need no frame & arrive at your door ready to hang on your wall.


more about our canvas prints

Free Shipping in USA and To Canada
You also might like these works of art by artist Linda Paul
Questions? call 303-818-2663