The Vineyard Art on Canvas by artist Linda Paul
Canvas art print of a wine country vineyard, wine bottles, wine glasses, grapes on the vine, pears, cheese, rosemary and villa This print is perfect for wine grape and vineyard kitchen decor. Limited Edition
Questions call 303-818-2663 or email us
copyright info will not appear on the artwork that you purchase
We can add your name to the wine bottle - additional $100.00
Online shopping and pricing for

Ready- to-Hang
(stretched canvas no frame needed)
Ready to hang on your wall!
Canvas Art:
Sizes: Sizes 28" x 12", 36" x 18", and 54" x 24"
Other sizes , see below
Canvas is stretched over 1-1/2" stretcher bars, with hand-painted sides and hanging hardware attached.

No frame needed!
more info on stretched canvas
Select size from drop down list
Artist's Inspiration:
I love misty mornings in the vineyards. Whether in California, France or Italy there is something magical about the mist hanging in the grape vines. Its all so perfect and still. I wanted to capture that feeling in this wine still life &vineyard landscape. The pottery holding the breadsticks has a miniature painting of a wine cellar. Sometimes these miniature paintings are a foreshadowing of future paintings that I have in mind. This artwork is perfect for wine & grape kitchen decor!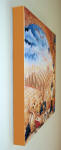 side view
Ready to Hang Canvas Art
The canvas is wrapped around 1-1/2" stretcher bars with hand-painted sides.
These artworks need no frame & arrive at your door ready to hang on your wall.


more about our canvas prints

Free Shipping in USA and To Canada
or buy the short version (below)

The Vineyard Short version - Ready to hang!
Stretched Canvas: Sizes 10" x 8" x 1-1/2", 16" x 12", 24" x 18", 36" x 24", 40" x 30".
Canvas is wrapped around 1-1/2" stretcher bars, with hand-painted sides & hanging hardware attached.


No frame needed!


The ready to hang canvases have a UV & water- resistant coating.
Free shipping USA and Canada
Customer Review of The Vineyard artwork

"

by Ilse Hyder 

I just received the picture ( The Vineyard) I ordered from you and it is absolutely beautiful, more so then was shown on your site. The colors are magnificent and matches everything in my kitchen. I have all red appliances and I have painted one wall in my kitchen red, and of course my theme is Italian, Wine, grapes etc. so the picture is perfect. I have to tell you, I have been looking for just the right painting for weeks. and could not find anything I wanted in any of the stores. So I decided to go on line and wahla, your site came up and there was the painting I was looking for. Now that I know about your paintings I will let all my friends know where to find your site.

Hi Linda, We received our canvas yesterday and what a beautiful piece of art! We just love it and it is perfect on our wall along with our "vineyard" themed room and the walls painted in "Tuscan colors". It looks incredible and I am so glad I found your web site! Now I am busy looking for walls to add more of your art to! The colours are so vivid and beautiful, it will be a piece of art that we will enjoy forever! Linda Moore"


You also might like these works of art by artist Linda Paul
Seeing IS believing and we believe you will absolutely love your art purchase from "Linda Paul Studio". 100% money back guarantee if you are not completely enraptured with your purchase."