Tropical Paradise Art on Canvas by artist Linda Paul
Tropical wall art on canvas of a window view of the beach with ocean waves, palm tree, and sunset. Perfect for tropical and beach house decor. Also available as a tile mural backsplash. Limited Edition
Questions call 303-818-2663 or email us
copyright info will not appear on the artwork that you purchase
Online shopping and pricing for

Ready- to-Hang
(stretched canvas no frame needed)
Ready to hang on your wall!
Canvas Art:
Sizes: 10" x 8" x 1-1/2", 16" x 12", 20" x 16", 24" x 20", 30" x 24",
40" x 30", 48" x 36". Canvas is stretched over 1-1/2" stretcher bars, with hand-painted sides and hanging hardware attached.

No frame needed!
more info on stretched canvas
Select size from drop down list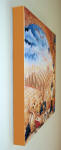 side view
Ready to Hang Canvas Art
The canvas is wrapped around 1-1/2" stretcher bars with hand-painted sides.
These artworks need no frame & arrive at your door ready to hang on your wall.


more about our canvas prints

Free Shipping in USA and To Canada
Artist's Inspiration:
When its winter in Colorado there is no place I would rather be than on a island beach with my feet in the sand, a breeze in the palm trees, pondering life. I love to watch the ospreys and shorebirds make nests and fish in the ocean for food. That is a good day.
Get Tropical with your home decor: You can decorate an entire room using the colors in this painting as inspiration. Use a soft creamy yellow for your wall paint color, furniture can be in rich gold and brown tones, then use teal and red for your pillows and home decor accessories to create pops of color. Using some glass in your decor and furniture choices will keep the look fresh and contemporary. For more of a beach decor look, use an even lighter color on your walls and select furniture that is light in color and style

You also might like these works of art by artist Linda Paul
Questions call 303-818-2663 or email us