Butterfly Abstract Art Paintings by American artist Linda Paul
Beautiful original acrylic paintingsof butterflies framed in a simple black wood frame. ready to hang on your wall. In colors of black , white, grey and lime green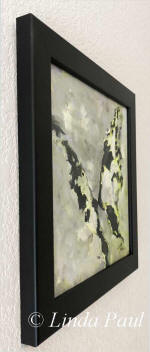 Butterfly in green grey and black
Original acrylic butterfly painting on canvas framed in black frame
framed size:

12" x 12" x .75" deep
Price $199.00
Sale Price $99.50


sold Dec 7, 2020




About this art from Linda Paul: I love butterflies. To me they represent the ultimate in freedom and beauty. For this artwork, I created an ethereal cloud like effect for the background using a wet into wet method with acrylic paint. . Then I developed the butterfly letting it be free and and serendipitous. The simple color palette is restful and dreamy.
You also might like this butterfly art from artist Linda Paul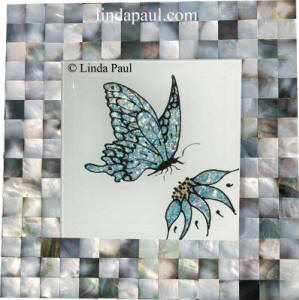 handmade glass art tiles with mother of pearl
Seeing IS believing and we believe you will absolutely love your art purchase from "Linda Paul Studio". 100% money back guarantee if you are not completely enraptured with your purchase."