"City by the Bay" original acrylic abstract cityscape painting by artist Linda Paul
Impressionist abstract painting created using many layers of impasto acrylic painting on canvas. Size 30" x 24"
Questions call 303-818-2663 or email us
City by the Bay
Original acrylic on canvas painting


Size 30" x 24" x 1.5" deep

599.00
$399.00 with free shipping
Here is the creative progress of this painting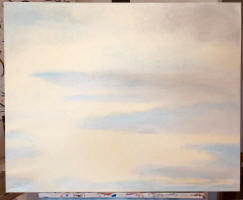 December 2018 I am feeling inspired by beach ocean and waves. I started this canvas by just spreading paint with my bare hands very quickly onto the canvas. This way it is organic and comes from the soul. Then I just let the painting take me where it wants to go.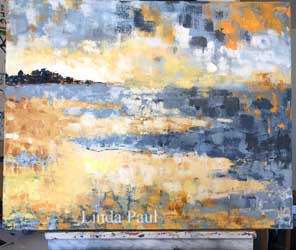 This painting wants to go in a blocky abstract directions, so using a large rubber spatula, I block in color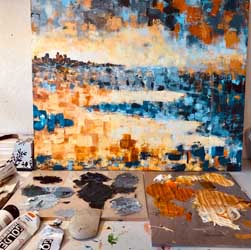 I am beginning to deepen my color. I use heavy body golden paints. I like to cover boards with wax paper as a palette.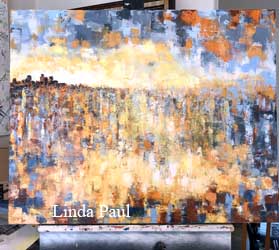 I originally wanted distinctive sand bars and now I am moving towards reflection in the water.


You also might like these colorful paintings by artist Linda Paul


Seeing IS believing and we believe you will absolutely love your art purchase from "Linda Paul Studio". 100% money back guarantee if you are not completely enraptured with your purchase."

Customer review:
Hi Linda, I just opened the painting and all I can say is WOW!!!! The pictures don't do it justice, it is just amazing! The colors match my wall perfectly. You can't get a sense of the process until you actually see it in person. I could not be any happier and I know my mom is looking down in total agreement. Thank you again for working with me on this, I will cherish it and enjoy it every time I walk into the room! Julie,