Fleur de Lis Tile Medallion Kitchen Backsplash - Fleur di lis Home Decor
Fleur de lis mosaic tile and metal kitchen backsplash medallion. Comes in many different metal finishes and stone colors. The relief and 3-d effect on these tiles is amazing. Can be used indoors or outdoors or anywhere you need fleur de lys home decor.
359.99
with free shipping in USA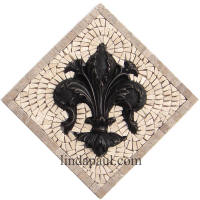 Fleur de Elegance mini medallion
shown above in bronze oil rubbed with S3 and S5 Travertine stone


click picture to see larger
Tile part is 3/8" thick. Fleur de
lis protrudes another 1" in relief.

Individually handcrafted in USA

show below in Copper Oil Rubbed with S3 S5 mosaics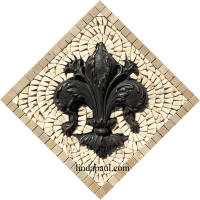 Exclusively from Linda Paul Studio
Fleur de Elegance Diagonal Mini Medallion
Each side measures 10" x 10", top to bottom and side to side points measure 14"

Arrives fully assembled on a mesh backing, just glue to the wall and grout the stones
Please contact us to customize medallion with different metal and stone finish es (see bottom of page)

Free shipping
In stock and ready to ship we have 4 in bronze oil rubbed, 1 in copper antique patina and 2 in copper oil rubbed with S3 and S5 travertine tile
all others please allow 2 to 3 weeks
$359.99
free shipping in USA
The center accent is high quality metal coated resin. They are available in many different finishes (see bottom of page) including oil rubbed bronze, copper and stainless steel. Itare lovingly hand-crafted in the USA.
You might also like these Fleur de lis accents and backsplash medallions from Linda Paul Studio

Installation pictures and ideas for fleur de lis backsplash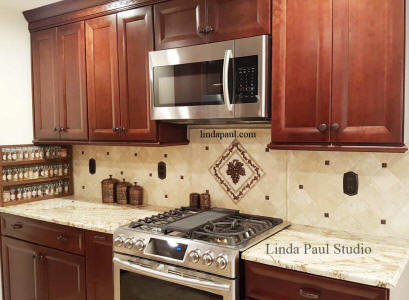 Fabulous kitchen with our
grapes and wandering vine medallion
and baby 1x1" fleur de lis accents cut into the corners of the diagonal backsplash tile
Colors used were S3 Light travertine and S5 Noche with copper antique patina accents
Super Simple backsplash design on a budget using our fleur de lis tiles in 3 sizes and tumbled bar liner. Customer used their own tile in 2x2" x 4 x 4" field for the rest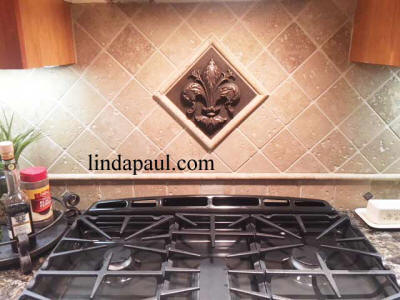 You can get a great look on a budget by utilizing just one of our fleur de lys diagonal tiles above your stove and framing it with a border that matches the rest of your tile
Buy a sample for $5.00 each

samples ship out immediately via usps mail
Can't decide what metal finish to order? Buy a sample for $5.00 each - online shopping below Samples are limited to one per color.
Samples are a great way to compare and match metal colors before you order metal tiles or a medallion.


Copper High Polish

Copper Highlight Polish

Copper Antique Patina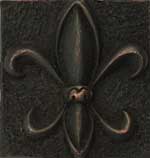 Copper Oil Rubbed

Bronze High Polish

Bronze Highlight Polish

Bronze Antique Patina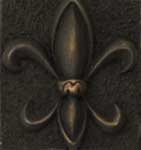 Bronze Oil Rubbed

nickel silver high polish

Nickel Silver highlight Polish

Nickel Silver Antique Patina

Nickel Silver Oil Rubbed

Brass High Polish

Brass Highlight Polish

Brass Antique patina

Stainless Steel High Polish


Iron Rust (dark brown)

Iron Wrought (black)