Modern and Bold Flower kitchen backsplash tile art murals for contemporary kitchens by artist Linda Paul
Colorful backsplash tiles that are perfect for black and white kitchen decor in contemporary or modern kitchens. Bold kitchen backsplash in colors of yellow, magenta pink, black and white. Linda will custom design these mural to fit your space
Questions call 303-818-2663 or email us

free shipping in USA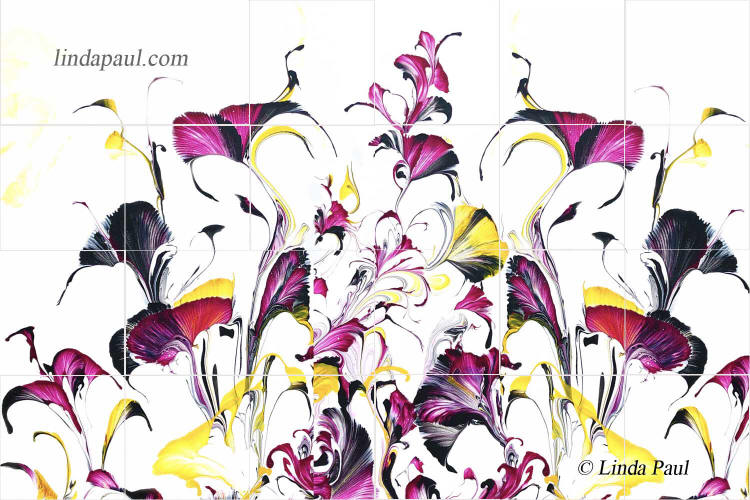 For a backsplash centerpiece we can make any size mural to fit your space. Linda can move, add and subtract flowers. We use 6x6" ceramic tiles but can make it on subway tiles by special order

some examples of sizes are, 24 x 18 $499.00, 30 x 18" $599.00, 30 x 24" $649.00 36" x 24" $799.00, 48" x 30" $1225.00, 48" x 36" $1679.00, 54 x 36" $1890.00

contact Linda for a mock up of the size you would like

Floral Dance Party Vertical Version

24" x 30" $$699.00
30" x 36" $999.99
Floral Fan Club - Flower border in any length. $50.00 per tile on 4.25" x 6" tile
This longer mural is great for the narrower area between your backsplash and the counter. Linda can reverse the image and custom make this in any continuous length to fit your space
Examples of sizes are 24" x 12" 4499.00, 36" x 18" $649.00, 48" x 24" $1119.00 etc.
Artist's Inspiration: I love painting abstract flowers! These murals are from my new series of abstract flower paintings.
Dimensions are given as length first, then height.
Don't know What Size to Order?
If you are not sure which size of backsplash mural to order, just email us a straight on picture or design drawing of the space you have for your backsplash and we can tell you which is the best size for your space. Be sure to include all dimensions. We can design the perfect backsplash mural just for you! Artist Linda Paul is an expert in designing her images to fit your space perfectly!
contact our tile design experts or call 1-303-818-2663 to order or inquire

Our murals ship in approx. 1 to 2 weeks, free shipping in USA see our in stock murals

you also might like these colorful backsplash tiles from Linda Paul Studio