Kitchen Backsplash Medallions and Tile Murals

Stunning tile backsplashes on marble and mosaic tile. Collection includes tile murals, mosaic tile medallions, metal tiles and tile accents.
Tons of backsplashes and tiles to choose from in all price ranges. All American made in USA.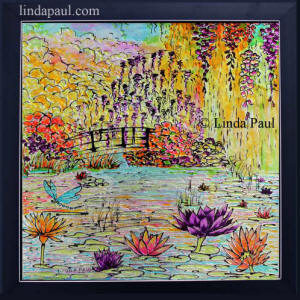 New from artist Linda Paul
Monet Garden Whimsy
- Original Framed glass art of pond, water lilies and bridge inspired in Monet's garden at Giverny France by American artist Linda Paul framed and ready to hang on your wall or behind your stove as a kitchen backsplash
Canvas Art Prints
Contemporary art prints of vineyards, wine, Louisiana, flowers, kitchen art seascapes and landscapes of Tuscany France and USA.
Buy high quality, affordable ready to hang artwork directly from the artist.

Original Paintings for sale
Beautiful , unique, original egg tempera, acrylic and mixed media art paintings by artist Linda Paul. These are one of a kind works of art.
Painting styles and themes include abstract landscapes, contemporary flowers, fish, Italian and French cuisine, wine and ocean scenes. Each artwork tells a story.