Kitchen backsplash Pictures and Ideas for Backsplashes
call 303-818-2663 or email us
A Little Blue in the Kitchen

This gorgeous kitchen features artist Linda Paul's Tuscany Arch Tile mural. The 2x2 blue accents surrounding the mural make it extra special. The wine bottle label was personalized the client's names.

Customer says "your personalized painting gave us that perfect pop of color we were looking for. Everyone loves it ! Fred & Donnie , Fairhope, AL
Small can be fabulous!

Our decorative
Rachels flower mosaic tile medallion
back splash is perfect for the area between the stove and the microwave. The customer used the same granite on the counter and the rest of the backsplash for a nice clean look.

Lots of sizes and metal finishes available
Roosters are a must in a French Country Style Kitchen!
Our rooster mini medallion in Nickel Silver high polish with S1 and S7 marble mosaic tiles.

customer says:
Here is my beautiful rooster in my new kitchen. He is definitely my centerpiece!
Nancy
Pretty much perfect neutral kitchen!

Our Rachels flower medallion in this lovely neutral kitchen

The medallion was well beyond our expectation and your attention to detail is second to none. We would recommend Linda Paul Studio to anyone that's interested in a beautiful piece of artwork for their home
Ted and Joyce Beussink, Lake St. Louis, Missouri June 2020
Three Ducks tile mural for French Country or Modern Farmhouse Decor

Get Quacking with this french country farmhouse tile mural from artist Linda Paul. Have sign personalized with your name, examples Karen's Kitchen, Fido Farm etc
Mid Century Modern Tile backsplash style with Falling leaves Plaque from Linda Paul in bronze high polish with blackened background surrounded by our
smooth small bar liner
in bronze high polish

The customer who installed this said, "It turned out beautifully. Thank you so much for creating this beautiful piece!, Sabine Moore , Columbia MO. "
Charming French Country Farmhouse Kitchen with Sunflowers backsplash mural by artist Linda Paul
30" x 24" Sunflower Field mural

customer review: "Everyone is amazed at the beauty of your work and the magnificent difference it made to my kitchen. Thank you so very much. I will be referring all of my Family and friends to your site." Vivian Grooms Mills River, North Carolina
Are you a Picasso in the Kitchen? Maybe not, but this mural will certainly cheer up your space with a nod to modern cubism and fishies!

Customer who installed this said, "Our Mural is finally in place and looks beautiful!! Like a piece of artwork. Wanted to share with you how beautiful it turned out and say thank you!! Everyone has commented on how incredible it is and that they have never seen anything like it!! Irene Zink, San Diego , CA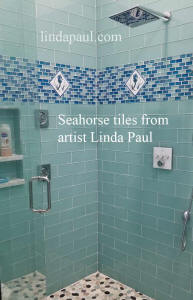 Our customer installed Linda's
seahorse ceramic tiles
in her shower. They are perfect in this Florida beach house bathroom
customer comment"
The seahorses worked so well with our shower design
", Sharon Grosse , Stuart, FL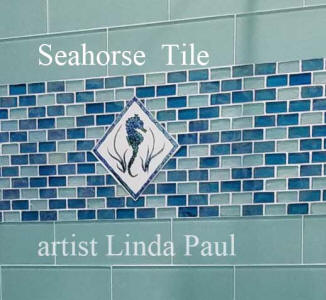 Traditional Kitchen with a pop of color

with our 36" x 24" Olive Garden mural backsplash

Customer who bought and installed this says, "My wife is so happy and loves it. Aram, Montrose, CA
A New Classic with Kitchen backsplash centerpiece of bronze and mosaic tile
Linda Paul designed this custom Ravenna mosaic and bronze metal medallion for a customer. Its an instant classic with the travertine stone subway tile granite countertop

Customer Review:
It turned out beautifully! I absolutely love it! Thanks so very much for your good work!
Deb Hagstom, IL
Country Kitchen with two tone cabinets and Vineyard mural
This customer did this installation himself. Its a charming country kitchen . Love the cabinets in two different colors
Mediterranean Style kitchen with Fleur de lis small mosaic and metal medallion

This installation of our fleur de lis mini medallion hits it out of the park! The installer did a great job of utilizing different tiles and making a ledge above the stove. Love the red accents too. The medallion is in stock in several metal finishes.
Wine Bar Backsplash beauty!
Installation of our Vienna grape mini medallion from Linda Paul Studio. Sometimes a small piece can make a space extra special. This one is bronze oil rubbed finish. In stock and ready to ship at https://www.lindapaul.com/mini-medallions-kitchen-back-splash-mosaic-tile-metal-backsplash-accents.htm

This country kitchen is chic and stylish with our Rooster grand medallion




Review from Customer who bought and installed this medallion


We have finished our kitchen, and I wanted to send you some photos of the medallion in its final home! We just LOVE how it turned out! And, it is the first thing that people notice and comment on when they come into the kitchen! Thanks again for all of your excellent artistry and craftsmanship. And, for all of your prompt communication and assistance with our project. We couldn't be happier with our rooster!
Jodi & Dick Schwegman, Lakeville , MN
Make a Statement with your Kitchen Backsplash
This custom Ravenna travertine mosaic stone and bronze metal medallion from Linda Paul Studio fits smaller backsplash areas nicely. The installer did a nice job of framing out the medallion with horizontal square tiles the, putting the rest of the backsplash tile on the diagonal
Need Backsplash Ideas for Coastal Kitchen or Beach House?
How about Seahorse Tile Accent in beautiful turquoise blue with mosaic tile and pebble stone backsplash and Tile Murals for Kitchen and Bathroom Backsplash
by American artist Linda Paul
Seahorse tile art in lots of sizes
Beautiful kitchen of one of our Canadian customers with dark brown walnut cabinets and our fruit basket medallion as the centerpiece under the beautiful Copper hood
Close up of medallion and backsplash. Fruit basket mosaic tile and metal medallion with Studded brackets and Rachels Dot accents. Size 24" x 24" in copper antique patina finish with S3 light travertine and S5 stone colors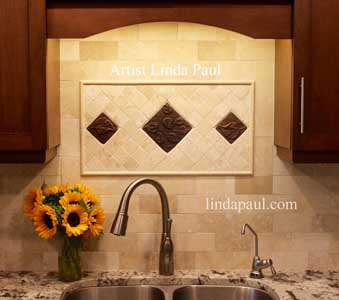 Matching leaf tile accents by Linda Paul over sink area.
review from Customer that installed this plaque and accents: We are so happy with the results. The artwork is beautiful, the colours are deep and rich and the detail is amazing! Thank you so much! Waterdown, ON Canada Christine
High contrast Mediterranean Kitchen beauty

Beautiful Mediterranean kitchen with our custom 31" x 21" Fleur de Grand backsplash. The high contrast black and gold compliments our the bronze antique patina metal accents in the medallion with the S3 and S5 mosaic stone >



This is a kitchen you want to hang out in all the time



Italian Style
Our 36" x 24" Italian Kitchen Window on 6x6" ceramic tile
Linda - Here are a couple pictures of our new Kitchen. We have an Irish Pub in our back room and my mom wanted an Italian Kitchen. Your painting is the focal point. It is absolutely beautiful. Thank you so much. My mom is ecstatic as is everyone who sees it. Many Thanks, Christian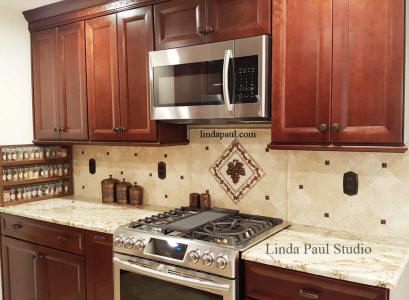 Fabulous kitchen with our grapes and wandering vine medallion and baby 1x1" fleur de lis accents cut into the corners of the diagonal backsplash tile
Colors used were S3 Light travertine and S5 Noche with copper antique patina accents
Gorgeous Kitchen in Grey and White

Picture shows customers gorgeous grey and white classic kitchen with our Ravenna Medallion Get more info and see more installation pictures

here is what the customer had to say," We are absolutely in LOVE with our kitchen. Having Linda's Ravenna Plaque Medallion was a perfect choice. So many complements and working with Linda's was a pleasure. Mark, Lena and Caden Posniewski Queensbury, NY
Before and After Pictures of backsplash


In this kitchen the proportion and design of the centerpiece fits perfectly. This is our Regal Fleur de lis plaque in nickel silver high polish with a black background

Sizing Tip from Linda Paul: To help you pick a size for your backsplash feature, cut out a piece of paper to the size you think you want the centerpiece to be, and then stand back and see how you like the proportion.
This lovely white kitchen has contemporary styling with a subway tile backsplash and a touch of french country with our Rooster mosaic stone and metal medallion. Love the piggy fruit bowl, cookie jar and pink roses too
One of our Australian customers sent in this picture of her Chili Pepper Kitchen tile mural. I love the red tile combined with the exposed brick and the natural wood countertop is amazing.
Customer comment
"Some years ago I had bought a Linda Paul "Chili -backsplash" and had it shipped to Australia. I can not tell you how much I loved it! Since then I have moved to the US (Dallas, Texas) and I must admit that my kitchen in Australia with your backsplash is probably way up there with the things that I miss the most...
" Michele
Fruit basket metal backsplash accent


Beautiful and simple backsplash using different shapes of white ceramic tile including trendy arabesque with our
fruit basket borderless accent
glued on top of the tile. Fruit basket is Stainless steel high polish finish
Grapes and Vine Kitchen Backsplash Design Idea
This cherrywood kitchen features our custom Wandering Vine and Vienna grape medallion. It can be made in pretty much any size.
Pineapple Kitchen Back Splash Design

What a great way to say, Welcome to my kitchen, than with this backsplash design featuring 3 pineapple tiles from Linda Paul Studio. Pineapples in nickel silver high polish .
Buy individual pineapple tiles and other fruit tiles
Backsplash Idea for Wine Cellar


The focal point of the custom wine cellar is my French Bistro marble tile backsplash. The restaurant signs in the mural were personalized for the customer. The top of the mural was cut into an arch by the installer to fit.

more info and buy mural online at French Bistro Tile backsplash
Featured Tuscan Style kitchen!


Check out artist Linda Paul's 66" x 36" Tuscany Arch tile mural in our customer's kitchen. It is bordered by 1" x 12" smooth metal border bar liner in copper highlight polish. The oil rubbed copper pot filler was placed in the center of the mural and the copper and stone hood is spectacular. You can mix different metal finishes in your kitchen to great effect!
Chateau Grapes Medallion

Stunning kitchen backsplash design with a custom Chateau grapes mosaic tile and metal medallion from our Studio. This kitchen combines both contemporary and classic design with beautiful neutral colors.


The elongated subway tile and our lotus cream marble border are a perfect compliment to the medallion. This example is a custom 20" x 18" size
Gorgeous French country kitchen with our
Rooster and Sunflowers tile mural
stove backsplash. I love how our customer chose the beautiful neutral and timeless cabinets and brought pops of color in with our mural and the ceramic roosters and sunflower plate. The 4" x 2" subway tile for the rest of the backsplash is a hot trend that is fits perfectly in a country french kitchen and the brick shape makes it feel like a farmhouse kitchen in France.
Backsplash designs and ideas for restaurants

We created this large Italian Pizza Kitchen backsplash tile mural and sign for Antigoni's Pizza restaurant in Turner Maine

We can customize many of our artworks with your name


go to Italian Pizza Kitchen back splash