Kitchen backsplash Pictures and Ideas for Backsplashes
This lovely white kitchen has contemporary styling with a subway tile backsplash and a touch of french country with our Rooster mosaic stone and metal medallion. Love the piggy fruit bowl, cookie jar and pink roses too
A beautiful Fleur de Lys backsplash and classic white hood
This is our stock Fleur de grand stone and metal medallion. The customer paired it with a lovely carved hood and dark cabinets
White Kitchen with DIY temporary Backsplash


A totally DIY temporary, removable backsplash. This inexpensive gorgeous glass art backsplash comes framed and ready to hang behind your stove or anywhere in your home. Its great for apartments, rentals or anywhere you need a instant backsplash and pop of color. Sunflower party by artist Linda Paul
One of our Australian customers sent in this picture of her Chili Pepper Kitchen tile mural. I love the red tile combined with the exposed brick and the natural wood countertop is amazing.
Customer comment
"Some years ago I had bought a Linda Paul "Chili -backsplash" and had it shipped to Australia. I can not tell you how much I loved it! Since then I have moved to the US (Dallas, Texas) and I must admit that my kitchen in Australia with your backsplash is probably way up there with the things that I miss the most...
" Michele


Copper in the Kitchen
Love this studded copper hood with our Ravenna Backsplash medallion in copper high polish with blackened background. Mosaic stone colors are S3 Light travertine and S5 Noche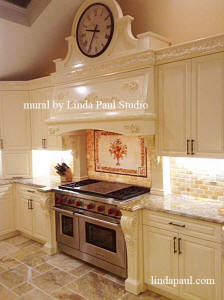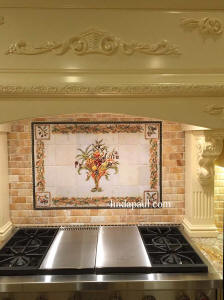 A French Country Beauty


Here is our Color Me Italian kitchen backsplash installed in a beautiful French Country Kitchen. The mural is bordered by our .75" rope liner border. Love the huge clock on the hood!
New from artist Linda Paul! 24" x 24" size of my original dragonfly pas de deux created behind a single piece of glass. Can be purchased with or without a frame.

Hand-painted behind glass for easy cleaning. we have a smaller 14" x 14" size in stock and ready to ship

Hang over existing tile or granite or install between your tiles - framed or unframed . Transform a plain backsplash space into something unique and spectacular.
Fruit basket metal backsplash accent


Beautiful and simple backsplash using different shapes of white ceramic tile including trendy arabesque with our
fruit basket borderless accent
glued on top of the tile. Fruit basket is Stainless steel high polish finish
Grapes and Vine Kitchen Backsplash Design Idea
This cherrywood kitchen features our custom Wandering Vine and Vienna grape medallion. It can be made in pretty much any size.
Arts and Crafts Style backsplash design


How refreshing is this arts and crafts style backsplash featuring the Falling Leaves copper plaque by artist Linda Paul. It is surrounded by a natural stone pebble backsplash with inserts of arrowheads, trilobites, petrified wood and individual leaf accents.


go to Falling Leaves mosaic and metal collection
Pineapple Kitchen Back Splash Design

What a great way to say, Welcome to my kitchen, than with this backsplash design featuring 3 pineapple tiles from Linda Paul Studio. Pineapples in nickel silver high polish .
Buy individual pineapple tiles and other fruit tiles
Tuscany Arch Tile Mural
over Stove in classic style kitchen
Its a nice design idea when the tile mural backsplash fills the entire space as in this picture of a custom kitchen with Thomasville cherry cabinets. Size of mural in picture is 48" x 30"

"The Tuscany Arch tile backsplash is gorgeous and compliments the decor in the rest of the kitchen. I have received numerous comments on the backsplash on how beautiful the backsplash looks and the high quality of the tiles. Thanks Linda."
Terry B Longmont Colorado
Backsplash Idea for Wine Cellar


The focal point of the custom wine cellar is my French Bistro marble tile backsplash. The restaurant signs in the mural were personalized for the customer. The top of the mural was cut into an arch by the installer to fit.

more info and buy mural online at French Bistro Tile backsplash
Tuscany in the Mist in 30" x 18" size bordered by metal fine rope liner and 3" x 6" subway tiles that have been creatively turned in horizontal and vertical directions. This tile pattern is unique and fits the space perfectly. I like how the range area juts out like a little peninsula.

From the customer who purchased and installed this mural
"Thank you again for your beautiful work. I can't begin to tell you how thrilled I am with the mural. Lisa Kern
Milwaulie, OR"
Featured Tuscan Style kitchen!


Check out artist Linda Paul's 66" x 36" Tuscany Arch tile mural in our customer's kitchen. It is bordered by 1" x 12" smooth metal border bar liner in copper highlight polish. The oil rubbed copper pot filler was placed in the center of the mural and the copper and stone hood is spectacular. You can mix different metal finishes in your kitchen to great effect!
Chateau Grapes Medallion

Stunning kitchen backsplash design with a custom Chateau grapes mosaic tile and metal medallion from our Studio. This kitchen combines both contemporary and classic design with beautiful neutral colors.


The elongated subway tile and our lotus cream marble border are a perfect compliment to the medallion. This example is a custom 20" x 18" size
Sunflowers Kitchen Backsplash Design Idea


We created this custom edge to edge version of our Sunflower Field for a customer. The arched hood over the range and dark cherry cabinets really make the mural pop and create the heart of the kitchen

go to Sunflower Field backsplash mural

click pictures to see bigger images
Gorgeous French country kitchen with our
Rooster and Sunflowers tile mural
stove backsplash. I love how our customer chose the beautiful neutral and timeless cabinets and brought pops of color in with our mural and the ceramic roosters and sunflower plate. The 4" x 2" subway tile for the rest of the backsplash is a hot trend that is fits perfectly in a country french kitchen and the brick shape makes it feel like a farmhouse kitchen in France.
Backsplash designs and ideas for restaurants

We created this large Italian Pizza Kitchen backsplash tile mural and sign for Antigoni's Pizza restaurant in Turner Maine

We can customize many of our artworks with your name


go to Italian Pizza Kitchen back splash
A Dream Kitchen in Cream

Check out these kitchen backsplash pictures sent in by one of our customers. The kitchen is dream in glazed cream cabinets with the star of the show being our Chateau Grape Medallion backsplash. The medallion is a custom 20" x 20" size with bronze oil rubbed metal grape and grapevine accents. The small subway tiles surrounding the medallion are the perfect touch. Love the custom hood and korbels.
Traditional Kitchen Charm and French Market Day Kitchen Mural


Our Market Day kitchen mural adds a perfect pop of color to this amazing kitchen that combines French country styling with a traditional design Lots of design details including cream colored glass front cabinets with a umber rub and creamy granite top.

Customer says, ""what a difference Linda's mural made to my kitchen. Really added the right touch of color." Patty Swenor , Vonore, TN
Tuscan Tile Backsplash in Custom Cherry wood Kitchen
Check out this beautiful traditional kitchen design. It features our Tuscan Kitchen mural with gorgeous cherry cabinets and amazing Barricato granite that was chosen to match the green , gold and cream Tuscan colors in the mural. Taking some cabinets to the ceiling and keeping some lower is an exciting new trend. Adding a molding at the top finishes the look


Tuscan Kitchen mural
Simple and elegant back splash idea


This beautiful kitchen backsplash picture shows 2 of our Vienna grape borderless accents set on tumbled stone in a diagonal pattern and bordered by travertine pencil style borders. Its a fabulous style that mixes contemporary with classic traditional design.