A Day in Provence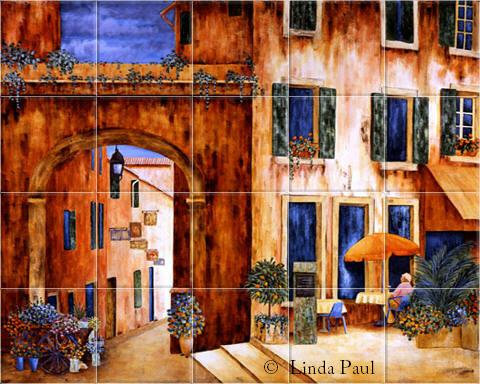 copyright info will not appear on the mural that you purchase
we can personalize this by putting your name on the restaurant sign (see below)

Pricing & Online Shopping

| | |
| --- | --- |
| 4" x 4" tumbled marble tiles | 6" x 6"tumbled marble tiles |
| | |
Dimensions are given as length first, then height A note on sizes:4x4" marble tiles actually measure 3-7/8" and 6x6" marble tiles measure 5-7/8". The listed sizes allows for grouting. If you push the tiles tight together the murals will measure slightly less than the listed sizes. For example a 30" x 24" mural actually measures 29-3/8" x 23.5" if the tiles are placed tight together. Shipping is free in Continental USA and Canada

Custom Tile Wall Murals: We can also create a custom mural to fit your individual space. Just give us the length and height of the space you have for your mural, and we will email you a quote with pictures to show exactly what your mural will look like. We use either 4" x 4" or 6" x 6" tiles, so your measurements should fit dimensions using either of these tile sizes.
Don't know What Size to Order? If you are not sure which size of backsplash mural to order, just email us a straight on picture or design drawing of the space you have for your backsplash and we can tell you which is the best size for your space. Be sure to include all dimensions.
Accent Tiles: 4" x 4" or 6" x 6" tumbled stone marble $35 each

ADIP-1 flower cart


ADIP-3
cafe & umbrella


ADIP-4
window with flowers


ADIP-5
window
You can add a frame to any of our 4x4" or 6x6" accent tiles and hang them as wall art
buy frames
What a difference your mural has made in our international kitchen/great room. We have lived overseas for 30 years and have many "treasures" in our home but your mural is one of the most effective and artistic pieces and it goes so well with our Mediterranean theme in the kitchen. Silly me: all along I thought our kitchen was finished but now I understand, it was only a blank slate! For the few days I had left in our retirement home, I just walked by and oohed and ahhed over the piece. As our neighbor said, "That is not a backsplash: that is a piece of art!" Thank you so much for sharing your art work with the world.

Jo Fuller, Danville CA
We can design the perfect mural just for you! Artist Linda Paul is an expert in designing her images to fit your space perfectly!
Tile sizes used for murals & backsplashes are:
4" x 4" or 6" x 6" (x 3/8") tumbled stone marble

Our murals ship in approx. 4 weeks, free shipping
see our in stock murals that ship in 3 days
Our Italian tumbled stone murals come with a satin/matte finish.

Our tile murals are easy to clean with soap & water and are designed to be used as kitchen backsplashes & behind stoves & ranges.
you can expedite your order to ship in 2 weeks for an additional charge of $100.00
just click add to cart

We can put your name on the restaurant sign for an additional $100.00
see example at left where we added "Bloom Bistro" to the signboard


Request a Sample! email us to request a mini paper sample (3" x 2"). Please include name of the artwork, your name, address and phone #. USA only . The paper samples are very close in color to the tiles , but not exact. If you wish an exact color match, we suggest you order an accent tile.


About our stone tile murals & kitchen backsplashes

"We have completed our kitchen remodel and the installed mural is simply the high light of the kitchen. I can't begin to tell you the number of comments we have received about this. It is special to us because we were there (St. Remy) last spring (07) with our children and their husbands. We appreciate your talent as this has been a true memorable experience for us. " Laura Mathiesen (purchaser of A Day in Provence tile mural)
"Finally got the kitchen done! I actually installed them myself. I really love them and am so happy with the total package. The tiles really finished the kitchen off in style. It was worth waiting a year to find them! " Gail Knight (purchaser of A Day in Provence tile mural)
Read reviews and comments from other customers who purchased a kitchen backsplash mural.
The mural is even more beautiful than I had expected! I love the smoothness of each tile, and the depth and beauty of the colors you used. I also really appreciate the obvious care you had taken to ensure safe delivery. Two years of waiting was well worth it. "A Day in Provence" will take pride of place in my redecorated kitchen. Thank you for your talent. Very sincerely, Barbara McNair, San Diego