French Country Kitchen Backsplash by artist Linda Paul

Beautiful french country tile backsplash of house with rooster, old bike, hollyhocks and wisteria. Tile murals of France by American artist Linda Paul. Made in my Colorado art studio

Artists inspiration: This artwork was inspired when I last traveled to a small island in France called Isle de Re. A magical place of wind swept fishing villages and cottages. Hollyhocks of every color thrived in the salt and sand. Bikes, donkeys and roosters were everywhere on the island that seemed to take a step back in time. Artist Linda Paul

free shipping in USA



6" x 6" x 1/4" ceramic tiles


we can personalize this mural for you in arched lettering above the window extra $100.00
see example
Our beautiful murals and accent tiles are made on 1/4" thick ceramic tile

Please contact us for custom sizes or to order your mural on 4.25" x 4.25" tile
more details about tile types, sizes etc



Murals and accent tiles have a satin finish
We can also create this longer version of French Country House
24" x 12" $499.00
30" x 18" $599.00
42" x 24" $1042.00
54" x 30" $1575.00

Customer review: Everyone who has been in my kitchen has fallen in love with your work. Thank you again for creating such a beautiful piece. Larri Rosenberg, Riverview FL
Accent Tiles 4.25" x 4.25" and 6" x 6" (

x 1/4" thick) ceramic

$50.00 each

Lead time for accents is about a week, items marked in stock ship right away

Dimensions are given as length first, then height.

Don't know What Size to Order?
If you are not sure which size of backsplash mural to order, just email us a straight on picture or design drawing of the space you have for your backsplash and we can tell you which is the best size for your space. Be sure to include all dimensions. We can design the perfect backsplash mural just for you! Artist Linda Paul is an expert in designing her images to fit your space perfectly!
contact our tile design experts or call 1-303-818-2663 to order or inquire

Our murals ship in approx. 1 to 2 weeks, free shipping in USA see our in stock murals

Installation Pictures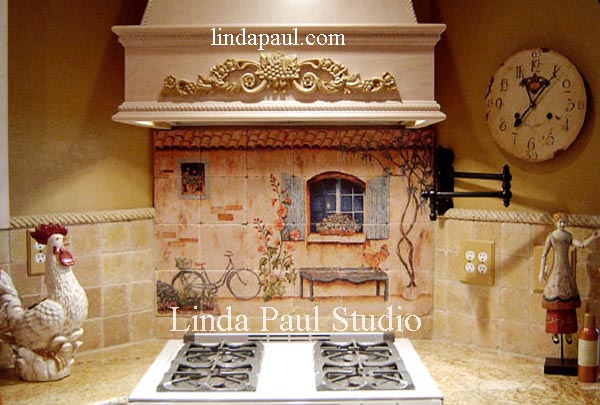 Featured backsplash Installation Picture of French Country House Tile Mural

Love this kitchen backsplash installation featuring our tile mural on tumbled marble tile, a ceramic rooster and country french accents

More kitchen backsplash ideas



"Here is a picture of your beautiful tiles installed in my French influenced kitchen. It gives me great joy to look at your work while I cook. Thank you."

Sandy Papageorge
"Linda's tile murals look even more beautiful in person than they do in the photos on the website. She has been a delight to do business with. The mural I have now in my kitchen makes the room so much more special than it would have been without it. I highly recommend that anyone who does a kitchen mural, also order the extra accent tiles to place randomly throughout the backsplash area around the mural. They really seem to finish off the look. "

Kathleen Noehren Redlands, CA
we can personalize this mural for you in arched lettering above the window extra $100.00

click picture at left to see larger image
Review:

F

rench Country House Tile Mural

by Donna Craig, Danville Arkansas. "We are thrilled with our tile mural. We just finished the remodeling of our French Country Kitchen last night"

" I don't just love it... I'm ecstatic over it!!! Really, the pictures on your site look great but do the work no justice at all... it is just gorgeous up close and personal! I am beyond pleased and I can't say enough how happy I am with the mural. I will recommend you to anyone I know that is looking for a tile mural and I am so happy that I found your website!! "
Read reviews and comments from other customers who purchased a kitchen backsplash
You also might like these art and tile products from Linda Paul Studio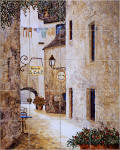 French Bistro
French country village with bistro restaurant & pub.