Wild Horses tile mural by Linda Paul
Shipping is free in Continental USA and Canada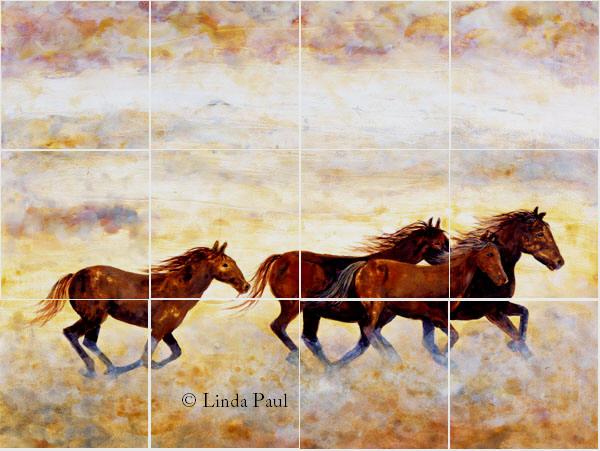 Pricing & Online Shopping
| | |
| --- | --- |
| 4" x 4" tumbled marble tiles | 6" x 6"tumbled marble tiles |
| | |
Dimensions are given as length first, then height A note on sizes:4x4" marble tiles actually measure 3-7/8" and 6x6" marble tiles measure 5-7/8". The listed sizes allows for grouting. If you push the tiles tight together the murals will measure slightly less than the listed sizes. For example a 30" x 24" mural actually measures 29-3/8" x 23.5" if the tiles are placed tight together.
Custom Tile Murals: We can create a custom mural to fit your individual space. Just give us the length and height of the space you have for your mural, and we will email you a quote with pictures to show exactly what your mural will look like. We use either 4" x 4" or 6" x 6" tiles, so your measurements should fit dimensions using either of these tile sizes.
Don't know What Size to Order? If you are not sure which size of backsplash mural to order, just email us a straight on picture or design drawing of the space you have for your backsplash and we can tell you which is the best size for your space. Be sure to include all dimensions.
Sizes 28" x 4" or 42" x 6" $210.00

Running horses border tiles on tumbled stone
We can design a horse tile border in a continuous running pattern in any length. Or design your own using any combination of the accent tiles below.

$280.00

Accent Tiles: 4" x 4" or 6" x 6" tumbled marble
click picture to see larger image
one horse

WH-1 $40.00

3 horses

WH-2 (2 tiles) $80.00
8" x 4" or 12" x 6"
4 horses

WH-3 (3 tiles) $120.00
12" x 4" or 18" x 6"
Longer version of Wild Horses



Extended version in 40" x 16" on 4x4" tiles for $525.00 or 48" x 18" on 6x6" tile for $599.00
We can design the perfect mural just for you! Artist Linda Paul is an expert in designing her images to fit your space perfectly!
Tile sizes used for murals & backsplashes are:
4" x 4" or 6" x 6" (x 3/8") tumbled marble tile

Our murals ship in approx. 4 weeks, free shipping
accent tiles ship in two weeks (3 days if they are in stock)
see our in stock murals that ship quickly
Wild horses mural in bathroom shower stall


The two sizes of gold travertine tiles are the perfect setting and framework for our Wild Horses tile mural

"...you knew we loved horses and the fact that you were able to find Linda Paul was a miracle. The shower, that the tiles were installed in, became more magnificent and alive with Linda's artwork and the way you chose to frame it...all our friends gasp when they see the uniqueness of how it all came together. Inspired by Linda Evans, designed by Bill Stevens, architect and consulting designer" for Vista Santa Rosa Hacienda, La Quinta, California" read more customer Reviews of our tile murals
| | | |
| --- | --- | --- |
| custom size horses mural | | |