Sunflower Field
free shipping in Continental USA and Canada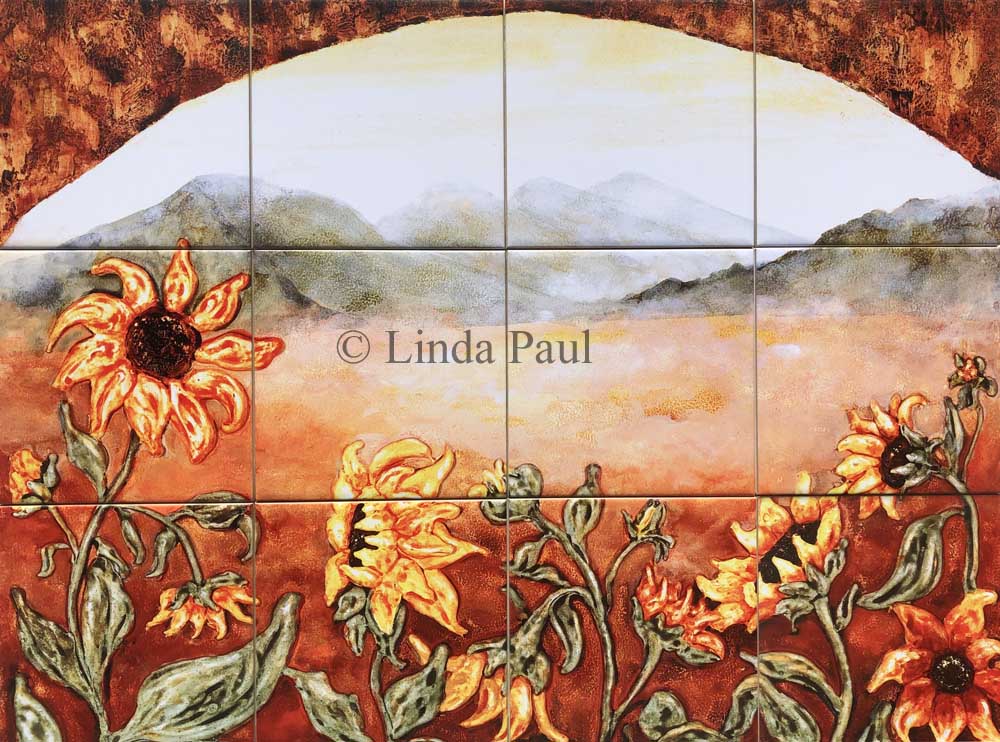 Pricing & Online Shopping
| | |
| --- | --- |
| 4" x 4" tumbled marble tiles | 6" x 6"tumbled marble tiles |
| | |
Dimensions are given as length first, then height
A note on sizes: 4x4" marble tiles actually measure 3-7/8" and 6x6" marble tiles measure 5-7/8". The listed sizes allows for grouting. If you push the tiles tight together the murals will measure slightly less than the listed sizes. For example a 30" x 24" mural actually measures 29-3/8" x 23.5" if the tiles are placed tight together.
Custom Tile Murals: We can create a custom mural to fit your individual space. Just give us the length and height of the space you have for your mural, and we will email you a quote with pictures to show exactly what your mural will look like. We use either 4" x 4" or 6" x 6" tiles, so your measurements should fit dimensions using either of these tile sizes.
Sunflower Field extended version back splash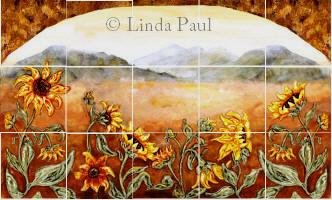 click picture to see larger image
| | |
| --- | --- |
| 4" x 4" tumbled marble tiles | 6" x 6"tumbled marble tiles |
| | |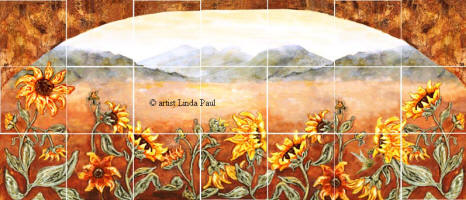 New!
Longer version with hummingbird
| | |
| --- | --- |
| 4" x 4" tumbled marble tiles | 6" x 6"tumbled marble tiles |
| | |
Don't know What Size to Order? If you are not sure which size of backsplash mural to order, just email us a straight on picture or design drawing of the space you have for your backsplash and we can tell you which is the best size for your space. Be sure to include all dimensions.
Sunflowers Accent Tiles: 4" x 4" or 6" x 6" $35 each
| | | | | |
| --- | --- | --- | --- | --- |
| SF-1 | | SF-3 | SF-4 reverse | SF-5 |

SF-6
sunflower and hummingbird



You can add a frame to any of our 4x4" or 6x6" accent tiles and hang them as wall art
buy frames
We can design the perfect mural just for you! Artist Linda Paul is an expert in designing her images to fit your space perfectly!
Tile sizes used for murals & backsplashes are:
4" x 4" or 6" x 6" (x 3/8") tumbled stone marble

Our murals ship in approx. 4 weeks, free shipping
accent tiles ship in two weeks (3 days if they are in stock)
see our in stock murals that ship in 3 days

click picture to see large image

Our Sunflower Field tile backsplash makes this kitchen a happy sunny place. We also love the wheat sheaf carving in the cabinet doors and the glass mosaic tiles surrounding the mural.
mural in picture is the 44" x20" on 4x4" tile

Here is what the customer had to say, "We LOVE our kitchen and the mural. We wanted a conversation piece as it faces into our family room too and it met the expectations. " Julie
Read reviews and comments from other customers


We created a of a custom Sunflower Field backsplash for one of our Canadian customers who wanted the mural to fill the entire space above the range.

For this version we replaced the arch in the original mural with an extended pale yellow sky. With the arched hood and dark cabinets the kitchen it really creates a focal point for the kitchen

Customer comments: "Finally after a year I am sending pictures of the tile mural. It looks beautiful, everyone loves it! It was wonderful finding your studio. Our kitchen would not be the same without your mural Everyone who sees this mural raves about it. To say we love it would be a huge understatement------we are thrilled beyond words. Thank you again for everything. It was a pleasure doing business with you!
Alma Buchanan, British Columbia Canada "
E

xtended version sunflowers back splash with subway tile and beautiful cabinets and range, This kitchen decor is contemporary and inviting.




"We received and installed the sunflower field tile backsplash and it exceeded our dreams. This stunning piece of art brought dimension and character to our new kitchen. Everyone who has seen it either in pictures or in person is taken with the beauty of it all. I feel so blessed to have stumbled across your fantastic work." Sandy B, Texas


Very creative installation of our Sunflower backsplash. Note how the field tile runs in two direction and the addition of the mosaic adds a lot of interest




30" x 24" Sunflowers tile Mural with white
ceramic subway tile back splash


Linda Paul designed this custom backsplash for this customer extending the sunflowers under the side kitchen cupboards



Got a narrow backsplash area?
This custom sunflowers mural and subway tile backsplash elongate the space. Its a great idea for a small space.

We can also customize Sunflower Field back splash to fit longer, narrower spaces or create an continuous pattern in any length. here are some examples of sizes and prices

4" x 4" tiles
36" x 12" - 399.00
44" x 12" $429.00
6" x 6" tiles
36" x 12" - $399.00
48" x 12" - $429.00
54" x 18" - $699.00
60" x 12" - $699.00
Our tumbled stone murals come with a satin finish.

Our tile murals are easy to clean with soap and water and are designed to be used as kitchen backsplashes and behind stoves & ranges.
email our tile design experts or call 1-800-936-9958 to order or inquire
toll free from USA, Canada, the Caribbean, Alaska or Hawaii

Request a Sample! email us to request a mini paper sample (3" x 2"). Please include name of the artwork, your name, address and phone #. USA only . The paper samples are very close in color to the tiles , but not exact. If you wish an exact color match, we suggest you order an accent tile.
you can expedite your order to ship in 2 weeks for an additional charge of $100.00
just click add to cart



About our tumbled stone tile murals & kitchen backsplashes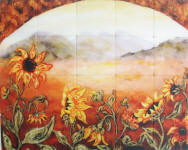 Shop Online!