Rooster Kitchen backsplash with Sunflowers by Artist Linda Paul . call toll free 1-800-936-9958 to order or inquire

These rooster kitchen backsplash tile by Linda Paul will make any kitchen a happy, sunny place. It is available in many sizes on 4" or 6" marble stone tiles. There are matching rooster and sunflower accent tiles too. Its perfect for farmhouse kitchens and rustic country kitchen decor.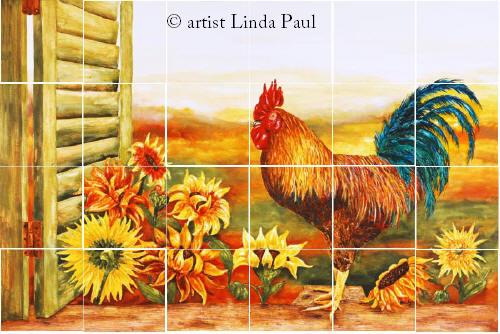 click picture to see larger image - copyright info will not appear on the art that you purchase
Pricing and Online Shopping
| | |
| --- | --- |
| 4" x 4" tumbled marble tiles | 6" x 6"tumbled marble tiles |
| | |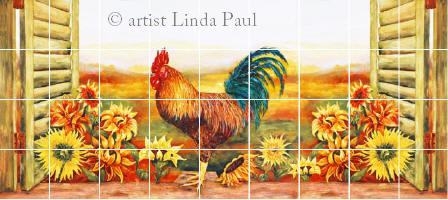 Super extended version SEV
| | |
| --- | --- |
| 4" x 4" tumbled marble tiles | 6" x 6"tumbled marble tiles |
| | |

New Double version of 2 roosters and Sunflowers - comes in lots of sizes - contact us for the size you need

Accent tiles in 4x4" or 6x6" on marble tile $35.00


yellow sunflower
RS-3



sunflower tile
RS-4



sunflower tile
RS-5


SIV-3
rooster on the fence post
and sunflowers

Gorgeous french country kitchen with our Rooster and Sunflowers tile mural backsplash. I love how our customer chose the beautiful neutral and timeless cabinets and brought pops of color in with our mural and the ceramic roosters and sunflower plate. The 4" x 2" subway tile for the rest of the backsplash is a hot trend that is fits perfectly in the country french kitchen because the brick shape makes you feel in could be in a farmhouse kitchen in France.

You can buy our Roosters and Sunflowers mural in lots of sizes and there are matching accent tiles too.

have a look what this same customer did with the sunflowers accent tiles in her laundry sink area

Hi Linda,
I just thought if pass this on! This is fabulous! I love it! Thank you Carol

28" x 16" mural on 4x4" marble tile
Customer Installation and review
Here is a picture of the Rooster and Sunflower marble tile mural I recently purchased. This photo is the kitchen in our Florida home. As you can see I made a wood frame to match the cabinets and then installed the tiles with the thin set glue to a wood backing. All of this was assembled in my shop at my New Jersey home to pretty exact measurements and then shipped UPS to the Florida home. My wife and I are very pleased with the mural and the finished project, Thank you for your product and your service.

My wife and I have a friend who installed a tile mural on a wall in his restaurant and it looked so good we decide to to the same behind the stove in our vacation home. We went with a chicken/rooster design in curtains and assorted wall art and the mural we ordered from you goes with our colors perfectly. I found your website by chance after I did a general "tile wall mural" search on the internet. They were a number of sites but yours had the pattern and colors that we liked the best.

Sincerely, Charlie Hill more buyer reviews
You can add a frame to any of our 4x4" or 6x6" accent tiles and hang them as wall art
buy frames
Custom Tile Murals: We can design custom mural to fit your kitchen space. Just give us the length and height of the space you have for your mural, and we will email you a quote with pictures to show exactly what your mural will look like. We use either 4" x 4" or 6" x 6" tiles, so your measurements should fit dimensions using either of these tile sizes.
Don't know What Size to Order? If you are not sure which size of backsplash mural to order, just email us a straight on picture or design drawing of the space you have for your backsplash and we can tell you which is the best size for your space. Be sure to include all dimensions.
We can design the perfect mural just for you! Artist Linda Paul is an expert in designing her images to fit your space perfectly!

Our murals ship in approx. 4 weeks, free shipping in Continental USA and to Canada.
see our in stock murals that ship in 3 days
you can expedite your order to ship in 2 weeks for an additional charge of $100.00
just click add to cart

Our tumbled stone murals come with a satin finish.

Our tile murals are easy to clean with soap & water and are designed to be used as kitchen backsplashes & behind stoves & ranges.
email our tile design experts or call 1-800-936-9958 to order or inquire
toll free from USA, Canada, the Caribbean, Alaska or Hawaii