Also read comments from
customers who purchased fine art from Linda Paul Studio
Thank you so much! We finally completed our project and it looks beautiful!! The grape medallion is perfect and compliments our adjacent wine room in our Tuscan home. I have admired your pieces for many years and am so grateful to finally have one. You are so talented!"
Michele Mulcahy, Chandler, AZ July 2020

go to grape mosaic medallions
Review from customer who installed this Rachels Flower medallion

The on was well beyond our expectation and your attention to detail is second to none. We would recommend Linda Paul Studio to anyone that's interested in a beautiful piece of artwork for their home
Ted and Joyce Beussink, Lake St. Louis, Missouri June 2020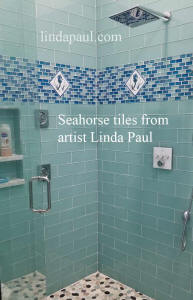 customer comment"
The seahorses worked so well with our shower design
", Sharon Grosse , Stuart, FL June 2020
Our customer installed Linda's
seahorse ceramic tiles
in her shower. They are perfect in this Florida beach house bathroom
The customer who installed this said, "It turned out beautifully. Thank you so much for creating this beautiful piece!, Sabine Moore , Columbia MO. " April 2020

Mid Century Modern Tile backsplash style with Falling leaves Plaque from Linda Paul in bronze high polish with blackened background surrounded by our smooth small bar liner in bronze high polish
Charming French Country Farmhouse Kitchen with Sunflowers backsplash mural by artist Linda Paul


customer review: "Everyone is amazed at the beauty of your work and the magnificent difference it made to my kitchen. Thank you so very much. I will be referring all of my Family and friends to your site." Vivian Grooms Mills River, North Carolina March 2020
Are you a Picasso in the Kitchen? Maybe not, but this mural will certainly cheer up your space with a nod to cubism and fishies!

Customer who installed this said, "Our Mural is finally in place and looks beautiful!! Like a piece of artwork. Wanted to share with you how beautiful it turned out and say thank you!! Everyone has commented on how incredible it is and that they have never seen anything like it!! Irene Zink, San Diego , CA
Fishing with Picasso tile mural and accents
Customer review, Your beautiful tiles are so lovely framed with glass tile offset frame. I didn't want the faucet to obstruct your artwork, so we invented a new phrase: "side splash"! I think the clear glass pencil tiles really set the flowers and Hummers nicely! Thank you again for sharing your amazing talent with us! Allison Snow, Clayton CA March 2020
Customer Review:
It turned out beautifully! I absolutely love it! Thanks so very much for your good work!
Deb Hagstom, IL January 2020

Custom Ravenna medallion
Customer review: My wonderful kitchen! I couldn't be more pleased with the medallions from your studio. I absolutely LOVE them and it really was the finishing piece to my new kitchen. Tracy Golden, Macon GA

fleur de lis mini medallion and tiles
Customer review from customer who bought and installed this piece. "
This was not the first piece of art I have bought from you and it won't be the last, exceptional quality and fast shipping as always."
Nate Terrana, PA December 2019

Our Regal fleur de lis plaque in this spectacular entry way alcove. The installer did a fabulous job in framing out the piece.
We created this photo tile mural from a customers sunset picture for her cottage in the Adirondacks. We can make your favorite photo or your own artwork into a beautiful backsplash.

Here is what this customer has to say,"
Linda, I could not be more pleased with your work! You have a good eye and were very helpful with recommendations. You were quick and made color changes as requested and made sure I was happy with the final product. You shipped it fast AND packed it in a way that all arrived without any damage. Everyone who sees this backsplash is so impressed! Thanks again Linda, it makes it so nice to have a lovely sunset to look at anytime I am cooking vs a plain wall. Blessings on you and your work!"
Cathy Williams, NY
Dear Linda, I can't begin to tell you how much we love your artistry. we purchased the Italian window looking tiles. Also, Besides having something pretty to look at, When we cook we actually get the feeling that we are in Italy looking out a window! I could keep going on but I don't wanna write a book about it. Everyone who stops by also Have Many Compliments. It has become the center piece of the remodel. Now thank you again for your creativity. James and Mandy Cunningham, North Hollywood, CA September 2019
go to Italian Kitchen Window tile mural
This customer bought 3 of our mini medallions for her Mediterranean style Florida home

Review:
Thank you so much Linda for helping me realize my dream home! I am so happy to have stumbled upon your website. You had just what I imagined for the creation of the backsplashes of my cook top, coffee bar and wine bar! I love showing it all off. Thank you for your talent! Toni, Crystal River, FL August 2019

More info and buy online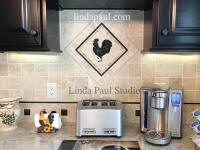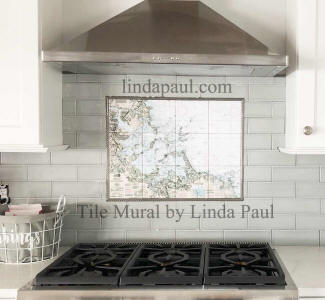 Customer says "It looks amazing! We love it" Patty Mullally, Quincy, MA august 2019

Let Linda make a custom tile mural for you,
more info on custom murals
our customers gorgeous custom Kitchen with the 26 x 19 Rachels Flower medallion

Customer review: My dream kitchen is finally done. The medallion is the focal point of my kitchen and ties everything together. It is absolutely beautiful and I love it. Thank you for assisting me with the perfect size medallion for my space. I have received so many compliments on the piece from my friends. You are highly recommended in my book!!! Jennifer Canaletich, NY July 2019
This country kitchen is chic and stylish with our Rooster grand medallion


We have finished our kitchen, and I wanted to send you some photos of the medallion in its final home! We just LOVE how it turned out! And, it is the first thing that people notice and comment on when they come into the kitchen! Thanks again for all of your excellent artistry and craftsmanship. And, for all of your prompt communication and assistance with our project. We couldn't be happier with our rooster! Jodi & Dick Schwegman, Lakeville , MN June 2019

Review from customer who purchased this medallion. "We love it, it is gorgeous and just what our kitchen needed." Howard Custom Homes, Baytown, TX

May 2019

Customer Review:
Here are some photos of our Bermuda Moongate tile mural, that you created for us, installed in our kitchen. I absolutely LOVE the way it looks. It came out gorgeous :) I can not even begin to tell you how many complements I have gotten. I am so happy that I found you on the web.
Jen April 2019


Have your art or photo made into a tile mural
"The tiles look awesome. They are the perfect accent on both sides of the stove." M. Hindman, Blythe GA January 2019

Hand-made glass tiles with iridescent natural paua shell.
Fleur de lis Paua shell and glass tile
(HERE IS) before and after picture of our new focal point in the kitchen. I posted these online and got a huge response! I also posted a link so others could browse your website. I have even had two tell me this has inspired them to do work on their own kitchen! We really love it. Thanks so much, and have a blessed day! Sarah E. Prestridge
January 2019
Fleur de lis mini medallion
Customer review for this installation of Roses and Vines:
I am so happy with the second mural I ordered from you for my kitchen in my new home here in Virginia. It is just as lovely as the one I ordered from you ten years ago for the new home we had built in New Hampshire. Your beautiful murals make cooking a joy and bring back pleasant memories for me of my many trips to Italy. Thank you again, Chris Winters Williamsburg Va. December 2018
Customer Review:
This mural adds a wonderful splash of coastal/tropical colors and warmth to our new kitchen. Thank you so very much for offering such beautiful artwork. We are getting so many compliments on this unique addition to our kitchen. This is second mural we bought from you. The first one was an Italian Tuscany vineyard scene which was equally stunning over our stove. I guess you can tell that we absolutely love you art work
Tommy Ferguson Wimauma, FL. October 2018

tropical paradise tile mural on 6" x 6" ceramic tile
Our Rooster mini medallion takes center stage in this marble backsplash!
Customer Review of this medallion and Linda Paul Studio: "I wanted to share with you how much I love the rooster mosaic! We underwent a major kitchen and first floor remodel. Four months in the making. How delighted I was to see your website and all the beautiful medallions. I purchased this beautiful rooster mosaic for my kitchen backsplash. It is even more beautiful in person. Everyone I've had the pleasure to show it off to absolutely loves it as well. Thank you so much for your talent and an exceptional customer experience. Suzette W. Las Vegas, NV April 2018

review from customer that purchased and installed this mural: I wanted to send you a photo of our installed tile backsplash for our house we just built in Montana. Looks incredible and we've gotten lots of compliments about the backsplash! Thank you tremendously for the lovely artwork, it adds so much to our home!! Thank you! Liz Feutrier

Tuscany Arch tile mural 30 x 24
The customer who bought and installed this mural says.
" My new kitchen is finally completed and I just love my tile mural. it takes me back to Tuscany whenever I look at it. Thank you for adding that special look to my kitchen.
Priscilla Ginnetti, Canterbury, CT January 2018
go to Tuscany in the Mist Mural
Features a 24" x 18" Sole Journey in the Horizontal version on marble tile over the sink

"I have received many compliments including the use of "stunning" following the upgrade of my kitchen which included a new Carrara marble backsplash, the Sole Journey Mural with the ivory marble pencil border tiles." Thom Hartle, Denver, Colorado October 2017.
We absolutely love our Fleur de Lis Mosaic from Linda Paul! We've gotten so many compliments on it already, and it's only been up for a few weeks. Even the installers were blown away at its beauty! Linda was also so very helpful with picking tile colors, and always got back to my questions very quickly. I will always recommend Linda Paul to anyone that's interested in a beautiful piece of art for their home. Thanks again, Julie
August 2017
We love our mural of Wild Horses and have installed it in our kitchen. We looked at many horse tiles but yours depicted exactly what we were looking for, they are just beautiful. Our installer was also very impressed with the professional quality of the tiles.
Nancy and Doug ,Mill Creek, WA August 2017
Love our Sunflower Tile Design Thanks Kepi and Terry
Redmond, OR July 2017
A little Tuscany in Florida
We finally finished our kitchen and have the mural up. Thank you so much for this beautiful art. We are so pleased and proud to have a part of you in our beautiful Caribbean home. Hope the pictures do a justice. Ellie Miami , FL June 2017
Gorgeous Kitchen in Grey and White

here is what the customer had to say," We are absolutely in LOVE with our kitchen. Having Linda's Ravenna Plaque Medallion was a perfect choice. So many complements and working with Linda's was a pleasure. Mark, Lena and Caden Posniewski Queensbury, NY February 2017

Get more info on Medallion

Here is what the customer who purchased and installed this Vineyard mural said, "
It's like looking through a window to another place and time."
Loretta, Portmouth, OH January 2017
I thank you again for the beautiful work. I'm also showing you the fleur-de-lis tiling that my husband surprised me with five years ago when we had the floors redone ... So you can see just how perfectly your mosaic medallion fits in with it all. ​~
Theresa L Ferguson Proud Navy Wife & COH (Commanding Officer of the Home) November 2016


This is our stock 24" x 24" Grand Vienna fleur de lis medallion installed in Theresa's kitchen.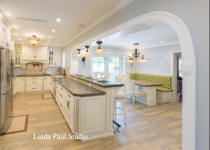 "We finally finished the kitchen and installed your beautiful tile artwork, we could not be more pleased with it and everyone not only loves the art work but the detail of having the family name on it." Doral, FL Oct 2016

Our 30 x 18
Vineyard mural on 6" x 6" porcelain tile

Review from customer who installed this mural:
OMG It is BEAUTIFUL, I love the mural. Thank you so much. It arrived at the most perfect time. We added a crema chair railing with crema gloss travertine around it. Thank you again, beautiful work,
Sincerely, Penny Cannon, Bergheim, TX October 2016


42" x 24" version of Italian Kitchen Window on 6x6" porcelain tile
What's Black and White and Stylin' all over?

This kitchen is! Gorgeous black and white kitchen with Linda Paul's dragonfly glass backsplash. Mixing cabinet colors and counter materials, gives this kitchen a contemporary country look with just a sousance of sophistication. The lower cabinets and hood are a pretty dark green that emulates the green in the painting. The framed glass painting was installed directly onto the wall, then tiled around with white subway brick shaped tiles.
size of finished art 24" x 24"

Comment from customer who purchased and installed the dragonflies: The colors in the dragonflies are perfect. They catch the light beautifully and the whole painting illuminates when the sunlight hits it. Everyone that comes into my kitchen is drawn to it immediately! It looks like it was made to be there. Thank you so so much! Debbie Nelson, Kingwood Texas
Click picture to see larger image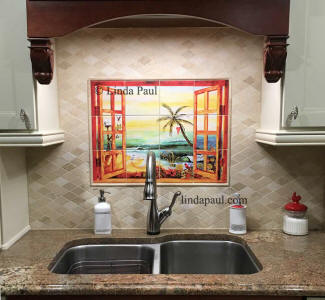 The customer who installed this mural says, "I wanted to share with you how happy I am with my Tropical Paradise Backsplash tile art. Everyone loves my backsplash designed by Linda Paul, but not as much as I do." Carmen Rosa, NC
August 2016
review from the customer who bought and installed this medallion, " the medallion is beautiful! Everything and more of what I envisioned. I just love my rooster." Gail, Laguna Niguel CA
Go to Rooster kitchen medallions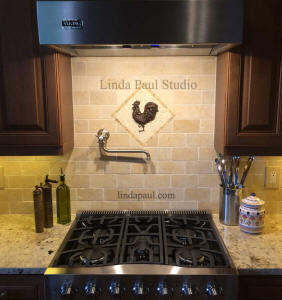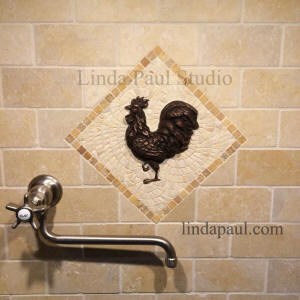 Hi Linda
Thank you so much for the Rooster medallion. From tile installer to the plumber, carpenter and the painter they all took a picture of the Rooster. I can't wait so show off to my friends and family. Thank you so much
R Sabatini , Hobe Sound FL June 2016
more about this medallion
Dear Linda,
I want to let you know that I received the mural and accent tiles I ordered. The mural is lovely. However, I especially want to thank you for the excellent job you did fitting my long last name on the personalized wine bottle on one of the accent tiles. I worried that the letters would be squished to fit. In reality, you did such a nice job of writing the letters ornately and legibly. I am surprising my husband with this detail upon the completion of our kitchen. I know he will very much appreciate it, especially since we are renovating his childhood home and it has been a "Bartolomei" kitchen for over 50 years! With sincere appreciation, Sadye Bartolomei April 2016

Just a follow-up to let you know our tiles arrived safe n sound. They are absolutely beautiful, we couldn't be happier! Wonderful ~ bright ~ joyful colors ~ Perfect in our new kitchen Thank you very much, Susan Ulm and family , March 2016 (bought Rooster and Sunflowers tile mural)


Some years ago I had bought a Linda Paul "Chili -backsplash" and had it shipped to Australia. I can not tell you how much I loved it! Since then I have moved to the US (Dallas, Texas) and I must admit that my kitchen in Australia with your backsplash is probably way up there with the things that I miss the most... Michele January 2016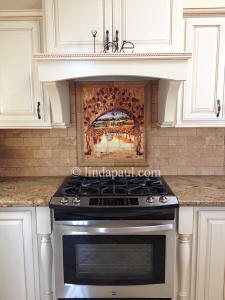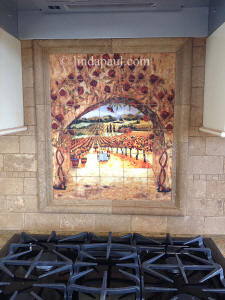 Its beautiful! Thank you so much! Sue,
April 2015
"The Tuscany Arch tile backsplash is gorgeous and compliments the decor in the rest of the kitchen. I have received numerous comments on the backsplash on how beautiful the backsplash looks and the high quality of the tiles and positioning. Thanks Linda."
Terry B, Longmont Colorado February 2015

Dear Linda: Received my mural (Wall of Ages) and accent tiles today - everything was packaged just beautifully, and I confess I HAD to unwrap the bottom two rows of the mural, just so I could see it in person. . . .OH MY GOSH! It is absolutely GORGEOUS, I just cannot get over how vibrant and pretty the colors are, it is such a peaceful, wonderful little spot, it is just FABULOUS! I can't wait to see it on the wall, behind the stove. I am just ecstatic. truly. I am so very pleased that I purchased the flower market painting. I am really looking forward to getting that piece, I am very grateful that you made it so easy for me. I have no qualms at all regarding the packaging or the state of the painting once it arrives. I know it will be just wonderful. Just can't wait. Carol Rhoades November 2014
click pictures to see larger images
I LOVE LOVE LOVE the way the kitchen turned out! Your tile piece is the focal point and has received RAVE reviews from absolutely everyone! Thank You and Best Regards, Pamela Kyle Clarkston, MI August 2014
features
Ravenna Plaque Medallion
Thank you again for such a gorgeous backsplash. Your talent is amazing!
Blessings, Susanne,
Keller, TX July 2014
Fleur de Lis backsplash medallion

Comment from the Canadian customer that purchased this medallion
: "We've received so many compliments and I brag about your work and website to family and friends. Maria Ferguson, Mississauga, Ontario, Canada July 2014
Roosters in the kitchen!


The customer who bought this custom medallion gave this review:


"I was excited to find these medallions offered by Linda Paul and when I called, Linda was totally responsive and shared my excitement. We exchanged ideas and Linda came up with the design with two roosters which I love! I was thrilled when I saw it; it's gorgeous! The product is quality. The medallion adds so much character to our kitchen! And the metal accents add continuity to the kitchen space." Mary Jane Leland June 2014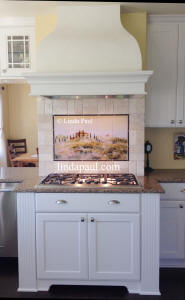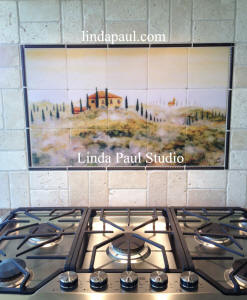 Tuscany in the Mist
in 30" x 18" size bordered by metal fine rope liner and 3" x 6" subway tiles that have been creatively turned in horizontal and vertical directions. This tile pattern is unique and fits the space perfectly. I like how the range area juts out like a little peninsula.

From the customer who purchased and installed this mural
"Thank you again for your beautiful work. I can't begin to tell you how thrilled I am with the mural. Lisa Kern, Milwaukie, OR June 2014
"We received the Rachel's Flower & Celeste Medallion this afternoon! It is absolutely beautiful! When my husband Sam saw it he exclaimed how the beauty of it cannot be replicated online – it must be seen in person to appreciate it. It is the finishing touch to our kitchen renovation - Sam and Debbie Igal" January 2014
We purchased (this) copper inlay stone medallion which looks absolutely wonderful! Linda's help and advice was invaluable. She helped us through several decisions regarding size, style, and stone color. To help us with the final choice, she created a scale image of the medallion so we could print it, piece it together and place on the wall to make sure the choice was the correct one. After the install, Linda's medallion was well beyond expectation and her attention to detail and customer service and support is second to none! We would recommend Linda Paul and her creative design products and services to anyone. John & Thom Marietta, Georgia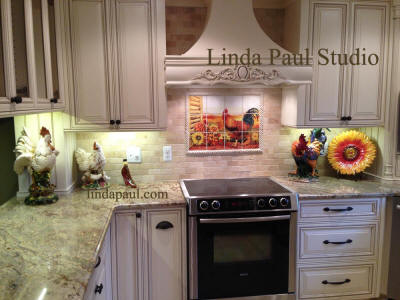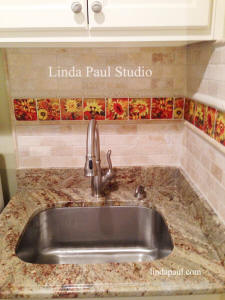 Hi Linda, This is fabulous! I love it! Carol May 2013


Carol installed our
Roosters and sunflowers Tile mural
in her kitchen backsplash and matching Sunflower accent tiles in her laundry sink area
I know what it's like doing an internet search for hours trying to select an artist to do a "unique and one of a kind artwork" which in my case was for my kitchen - and then I found her site. Linda's work is just so beautiful and can turn a bland space into a mini art gallery. Her artistic painting on the tiles and attention to detail make this piece of art something really special in our home. My mural choice was the "Sunflowers in the Vines" and I swear to you, it looks like we had a window installed in our kitchen over the stove. It's that realistic when finished! So, do yourself a HUGE favor and make that connection with Linda. She is a delight to work with and extremely knowledgeable and helpful during the ordering process. Her website has sooooo much information along with many, many pictures along with tile ideas and selections. Linda, we thank you very much for enhancing our home with your beautiful work plus turning my kitchen into a showplace and making it a real treat to be cooking in such a gorgeous space!
Linda and Dick Walsh February 2013
Our Market Day kitchen mural is the focal point of this gorgeous kitchen that combines French country styling with a traditional design Customer comment: what a difference Linda's mural made to my kitchen. Really added the right touch of color."
Patty Swenor , Vonore, TN
Sunflowers Kitchen Custom Backsplash Design
Finally after a year I am sending pictures of the tile mural. It looks beautiful, everyone loves it! It was wonderful finding your studio. Our kitchen would not be the same without your mural Everyone who sees this mural raves about it. To say we love it would be a huge understatement------we are thrilled beyond words. It was a pleasure doing business with you!
Alma Buchanan, British Columbia Canada August 2012
go to Sunflower Field backsplash mural
We finally installed your beautiful tiles. We are very glad we found your picture – Everyone who comes to our house is drawn and mesmerized by your design.
Wilfred January 2012